Welcome!
hi I'm currently not here.I'm currenty taking care of what I call a 11 rating Party.
I will come back.I promise.
I'll come back and ansewer your messages as soon as I can.
Who wants to party?!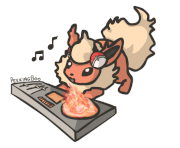 Hello there! I'm Blade, one of the long-time inhabitants of this site. If you have any questions feel free to ask. Welcome to WFW!
"And just what the frog is normal, anyways!?" 15:45, April 25, 2016 (UTC)
Hi! I just wanted to say hello. I noticed you are a new user here, so welcome!
Life is a road I wanna keep going Love is a river I want to keep flowing
Rainy is not in charge of the WFW 1 program, Brighty and I are.
Let me clarify a few things before I approve of the show. Your show rating will be R, as it seems rather violent, and I would suggest toning the violence down a bit and not showing anything inappropriate (thus please no decapitation and anything to do with birthing processes and descriptions of such things).
Can you type out your show name exactly how your page would be called? Is it The SOULmate or The Soulmate?
"Usually I'm remarkably good natured. Try me on a day that doesn't end in y."
All right. You can have births, you just can't show the scene like descriptively. You can do it how the Warriors books do it, but other than that, nothing else. And yeah, the decapitation is a bit extreme, so thank you for taking that out.
"Usually I'm remarkably good natured. Try me on a day that doesn't end in y."
Re:Registration
Thank you! I'll make sure to add that. I keep on telling myself no, but I keep on falling more in Love with you
...Do you want some help fixing your show? I'd be happy to help you if you want some help. I wanted to walk with you... 14:26, May 7, 2016 (UTC)
Re: Mary-Sue
Hmm, what an interesting character! Well, the names of her kits were a little off,just like her eye color - most of the kits are named after gems, and cats don't know what gems are. Otherwise, your character is great and there is no way - unless someone is very stupid - that your character can be accused of being Mary-Sue. Good work! --Pumpkintail (talk) 16:01, May 19, 2016 (UTC)
do you mean the publish button?
Perhaps you should just restart your computer...I'm not sure that it's a problem for everyone, so it might just be your computer?
Let my eyes be your sunrise here
WFW News
So, people who have been chosen for the NUI interview have not yet responded, so I'm asking you. However, in the future we ask that you do not request being interviewed. Just fill out these questions and post them on my talk page. There's not a hundred percent chance that your interview will make it in the paper, if the other two reply before Saturday, but the odds are in your favor. Besides, either way I need a backup, because I don't want another week like last's where there was no NUI. 
When did you join?
Have you made fanfics already?
What are they?
Which would you consider best?
Do you like this site?
Please answer ASAP. Thanks! :) Warriorcat1195 (talk)
HEY IM SORRY COME BACK --Pumpkintail farewell nightmares i am free 16:48, July 25, 2016 (UTC)
come back and wait a bit k? --Pumpkintail farewell nightmares i am free 16:53, July 25, 2016 (UTC)
Heyyyy
I've seen that you've left a message at the WFW Community Tales, saying you want to join. Feel free to join! Just leave your warrior name, clan (Or u can be a rogue/loner/kittypet too), and description ;) Thanks for joining! I'm sorry because I was pretty inactive last week as I said in my blog :c I'm back, (for now x3) so I'll wait to see ur comment in the fanfic :)
Lyrics
I want avocados for lunch, gimme some N.O.W.
Do you want to just delete the fanfic or get rid of it from the category page and keep the fanfic?
'Cause I've got a jet black heart
You can press edit on the page and on the right side there's a category section (you might have the scroll down a little) and you can hover over a category and a little trash can will pop up at the right of the name and you can delete the category from the page, which takes the page from the category page.
'Cause I've got a jet black heart
ey Flar want to make more plots for fallen? I'm a never ending Flame
Gens 1 and 2 all the way, Flareon. And I saw you have the default sig- d'you want me to code one for you?
Your word is the only thing you can keep and give at the same time. 16:24, January 16, 2017 (UTC)
"favorite starter" i freaking love them all, but i'm stuck between cyndaquil and chikorita
Anyways, what do you want your sig to say? Do you have any fanfics that you'd like your sig to link to? What color?
Your word is the only thing you can keep and give at the same time. 15:55, January 19, 2017 (UTC)
hey so the links you showed me for your sig haven't been created yet, so when people click it, it'll link them to creating that page, which won't be a good thing when you decide to write those stories if they're a troll or something. anyways, for now I'll just make the grey-blue part link to your talk, and the black-purple part link to your user page
tell me if you want it any other way
Your word is the only thing you can keep and give at the same time. 00:03, January 20, 2017 (UTC)
i did iiiiiiiiiiitt
tell me if you want anything changed
I never meant to lose you... Please forgive me... I need you...
Your word is the only thing you can keep and give at the same time. 00:59, January 20, 2017 (UTC)