Hi guys!
I haven't edited in a long time, I apologize. I warned you guys it would happen though! 
September was a harsh month, honestly. My grandma who lived with my parents for 20 years, and my entire life, passed away very suddenly without any forewarning. It was a very sad month. But it's okay now, we're fighting through it.
As for October, that's when marching band season REALLY picks up. This past week we had to practice a total of 16 hours because practices started earlier due to early release. We practice Monday, Tuesday, Thursday, and we practice two hours before football games on Friday, and if we have competitions, we practice two hours before leaving for competitions. We are a pretty good band, tbh. We haven't won first yet, but the past competition we WOULD'VE won first (but a preforming arts magnet school decided it'd be fun to join a competition with regular schools :\\), but we got second. Hopefully next competition we'll get first, since we got 2nd in it last year (Woodland, the magnet school, isn't supposed to be there, so fingers crossed!)
If you wanted to see the show, here's the video
All three movements, all moves, full uniform. This is what we did last night :D
Here's some pics if you wanted to see our uniforms and such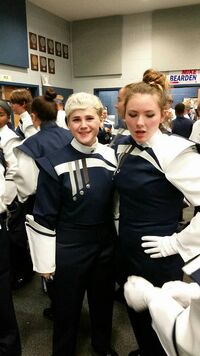 Me and my friend in uniform, the hats are white with white plumes btw. Drum majors are in all navy besides the gauntlets.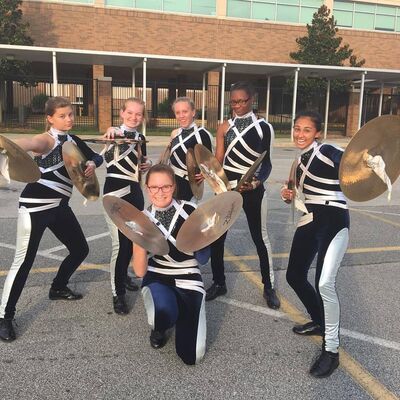 Cymbal outfits
Colorguard! Yes, there's several different outfits, all Steampunk based. It's pretty cool.
As for me, I'll try to pick up activity around November (my birthday month ;)), since marching band season and practices will be over by then.
Thanks guys!
Wetstream 17:06, October 18, 2015 (UTC)
Update: If you wanna, I have some social media so you can hmu on there :)
Twitter: [1]
Tumblr:[2]
Instagram: [3]
Community content is available under
CC-BY-SA
unless otherwise noted.