idea
im making a manga called A Love Story and i need people to help me make it just sign up at the bottom of this page and tell me what you want to do ( Ex. *Wildfire* writer) if you dont know yet or just want to do somthing small the tell me that.
The story part is about a cat named Mouseleap who falls in love with a cat named Sun (need voters here) You can find out more about the drawing part here.
Writers
Supreme Ruler: Zaffie
Leader:*Wildfire*
Deputy: Whitestar7
Warriors: SmudgyHollz
Drawers
Leader:Wetstream
Deputy:EmeraldeKitty008
Warriors:
Don't know(ers)
Others
current project
find 1 more drawer
start writing a little (anyone can edit the page as long as you sign here)
come up with a title (best one gets a carart)
picture
this is Mouseleap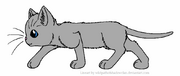 This is Sunfur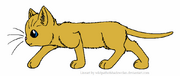 Chapters
Chapter 1: Wetty
Chapter 2: Emeralde
Chapter 3: Wetty
Chapter 4:
Chapter 5:
Community content is available under
CC-BY-SA
unless otherwise noted.