m (cross-wiki template)

 

(One intermediate revision by one other user not shown)
Line 1:
Line 1:
 
+

{{w:User:SnowedLightning}}

−

==About Holly==

 
−

Well, there's not really much you need to know, but, I can give you the basics.<br><br>

 
−

Username:Cloudskye<br>

 
−

Real Name: Kelsey<br>

 
−

Nicknames: Cloudy, Holly(or Hollyfeather), Fireheart (inside joke), Skye, Alucard (or Alu), Rabbit-Out-Of-A-Hat-Girl(by my bowling coach's wife)<br>

 
−

Gender: Female<br>

 
−

Age: 17<br>

 
−

Location: The Only Town in PA, USA<br>

 
−

Hobbies: Reading, Novel Writing, Role-Playing, '''''BOWLING'''''<br>

 
−

Music: Aerosmith, REO Speedwagon, Evanescence, DHT, Avenged Sevenfold, Foo Fighters, Shinedown<br>

 
−

Current Siggy: <span style="Background:;border:1px dashed; color:">[[SnowClan's Song - Holly's Story|<span style="font-family:Century Gothic;color:#000000;">♥</span>]][[User:Cloudskye|<span style="font-family:Century Gothic;color:#000000;">Holly</span>]][[User Talk:Cloudskye|<span style="font-family:Century Gothic;color:#000000;">feather</span>]][[Stormy Dawn - One Kit's Promise|<span style="font-family:Century Gothic;color:#000000;">™</span>]][[Project:Imagine|<span style="font-family:Century Gothic;color:#000000;">♥</span>]]</span> 17:19, January 14, 2011 (UTC)

 
−
 
−

I've been a Warriors fan for a long while now, and I really enjoy the series. I first got started with reading the books the summer ''after'' my freshmen year in high school. My old guidance counselor from my middle school had once told me about them, saying that her daughter read them, and she's around the same age, so I should too. Well, I finally got to pick up a copy of ''Into the Wild'' and I instantly feel in love with the series. Now I'm almost done with my senior year in high school, and I'm still very much a fan as I was when I started.

 
−
 
−

===Contact Information===

 
−

I have quite a lot. So, please bear with me.<br>

 
−

'''MSN Messenger''': ''strife.heart@hotmail.com''<br>

 
−

'''AIM Messenger''': ''xstrifeheartx''<br>

 
−

'''Yahoo! Messenger''': ''strifeheart''<br>

 
−

'''Meebo Account''': ''PiorunMaximum''<br>

 
−

'''[http://www.thelifestream.net/forums/member.php?u=45 The Lifestream Fourms]'''<br>

 
−

'''[http://warriors.wikia.com/User:Cloudskye Warriors Wiki]'''<br>

 
−

'''[http://Facebook.com/FallenAngelSkye Facebook]'''<br>

 
−

'''[http://Myspace.com/SilverWolfSister Myspace]'''<br>

 
−
 
−

==Other Fun Stuff==

 
−

I found this by looking around the Warriors Share Wiki, and I decided to take a look around. I like this site so far. You can blame Forestpaw for leading me here. xD

 
−
 
−

==My Thoughts On Other Users==

 
−

[[User:Nightfern|Night]] - Her and I run WSW. I'm a huge fan of her work, and she's an amazing writer. She's improved a lot since she started coming to the wikis, and I consider her on of my closest friends.<br>

 
−

[[User:Riverpelt|River]] - She's back, and we're all happy. Her charart skills are amazing.<br>

 
−

[[User:Forestpaw13|Forestpaw]] - The rollbacker with awesome story skills.<br>

 
−

<br>

 
−

I don't really know anyone else here... So... If you want yourself to be added here, become my friend! =D

 
---
Latest revision as of 18:18, 24 November 2015
"And when I feel like I'm lost, something tells me you're here with me...and I can always find my way when you are here."
---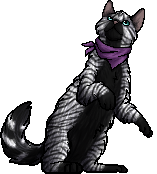 Jayce Lynn (KT, Shepard, Skye)
They/He | 27 | Northeastern Pennsylvania
Discord: @ademonslexicon#0213 | twitter: vakarian_effect
insta: ademonslexicon | Love Live! School idol festival progress
---
Hello! I'm SnowedLightning, and I've been on Fandom since May of 2009. In my time here, I've gone from an active editor to administrator and bureaucrat, and I currently help to maintain the Warriors Wiki! In addition to that, I am also part of Community Council, having joined in 2012, and I was also part of the defunct Wikia Stars program. I'm also part of the Community Central administrator crew. If you need help or someone to talk to, please don't hesitate to message me! I'll do my best to help, or point you to someone who can!
...I've been around for a long time, I know. I'm a fairly shy individual, but I absolutely love talking to people once I get to know them! You can find me in the Fandom/Gamepedia Discord server- don't be afraid to shoot me a message or two!
---
Warriors Wiki  •  Community Central  •  Community Council