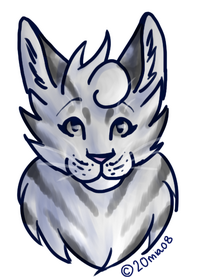 DO NOT USE MY ART.
I am here only for that, this, that, this, that and Fred--
--ah never mind, I'm just here for the aforementioned stories.
Little more active on wiki. I can be found significantly more active on the link on "My Website", or on Discord (which I don't hand out, sorry). Or, I can also be found here.
Nonetheless, I'm still seeking roleplays for my downtime! If you have any suggestions, let me know HERE!

Least Favorites: Tigerheart, Millie, Daisy, Dovewing, Thistleclaw, Spottedleaf, Briarlight, 95% of bland and personality-less ThunderClan.
Least Favorite Ships: DovexTiger, IvyxFern
Favorites: Mousewhisker, Stonefur, Longtail, Mousefur, Bumblestripe
Favorite ships: FirestarxDeath, ThornclawxPatrols.
Stopped reading warriors after the series about the beginning of the clans or whatever. Absolutely could not hold my interest.
Occupation: I am a veterinary assistant and organic chem student. Basically, I'm busy 24/7.
Community content is available under
CC-BY-SA
unless otherwise noted.