Welcome to Silver's page!
Hi I love to write warriors, read books, and hang out with my awesome friends. My favorite kind of chocolate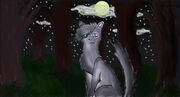 is 72% cocoa dark chocolate. My favorite fruit is the kumquat.
My stories :) 
I want to complete some of these by the time this year ends. (my late new year's resolution)
__________________________To Change A Heart...
Other stories I totally LOVE and that you should read.