Hi, {{{1}}}! My name is Roselight. You can call me Ro. I am kinda new here, but I have already read a TON of the fanfictions on this wiki. (And I have been on this wiki longer than what my profile says because I didn't have an account yet. But now... I have one so now I've actually joined.) This is already my absolute MOST FAVORITE wiki. Also, thank you Hope, Lyric, and Yellow for the compliments on my writing. FYI, I am only 13, so I was shining with pride. Granite, I did get straight As this school year. (Not that that has anything to do with anything.) :)
I also make covers if anyone wants one. Let me know on my talk page what your preferences are, if any, and what story the cover is for. :)
My best real life friend, Bea, drew this picture for me and also gave me permission to use it as my avatar. It's of my OC, Roselight, who I am named for. (my username)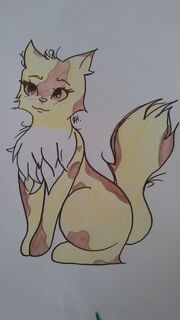 My Fanfics
My Future Fanfics
Hello! So, I have a notebook of all of my ideas for fanfics in my room, and I figured I would put the titles of theme here so it's much easier for me to choose one that I want to start. Anyway, here's the list!
Dark Roses: Book 2: Rosebush on the Moor
Dark Roses: Book 3: Lovely Sunsets
Dark Roses: Book 4: Blooming as the Night Rises
Dark Roses: Book 5: Night Petals
Dark Roses: Book 6: Nature Mending
Dark Roses: Special Extras: The Rose's Shadow
Flying - Jay's Wing's disappearance
(Ice & Snow/Snow & Ice/Summer Snowflakes) - still choosing name - Frozen in Warriors World
(Title Unknown) - Harry Potter parody (will hopefully make all 7 books)
I Want You To Be Happier - Sonfic to Happier (Marshmallow & Bastille)
Rewrite the Stars - Songfic to Rewrite the Stars (from The Greatest Showman)
Someone Like You (IDK if that's already a title) - Songfic to Someone Like You (by Adele)
(Title Unknown) - What if Swiftpaw had Survived?
Foster - A show based off of the kittens that I foster. Season One will be about four kittens that I'm currently (as of creating this) fostering. Meet main character and perspective cat, Apricot the Observant (Female) and her fellow kittens in crime: Finn the Playful, Po the Feisty, and Kylo the Shy (all male). This show will follow their daily lives playing inside the house and watching through the window, wishing they were outside in the wide wide world.
This next one actually has a pretty funny story behind the inspiration:
(River/River Lee) again, still choosing name, but most likely to be called "River" - Prophecy: Where the stream meets the brook, a river will form - Okay, so story behind the inspiration: I was in a car ride, and I passed by a sign in my town that said River Lee on it. I started thinking about how River would be a nice name for a cat, and about 30 seconds later, I had the full plot of the story, the three main characters, and the prophecy!
My Favorite Fanfics Made by Others
Here is a list of all the fanfics that I really like that were made by people other than me:
Covers That I've Made