Whoever you are, you're pretty insane to enter here. I am Raintalon44. I will soon start, finish, and like my fanfic, Rainstar's Rise. I might make more things up. lets find out random things!
My favorite character is Hollyleaf, but Darkstripe, Jayfeather, Goosefeather, Russetfur, and Nightcloud are trailing behind.
I hate Hawkfrost Lionblaze Ashfur, and Dovewing with a burning passion
I like Pokemon. My fave pokemon is Ditto <3
my favorite character throughout ANY book series is Violet Baudelaire. She's really smart and pretty..
I hate hate hate when in fanfics they put Kawaii Desu or sama Ei, Firestar-sama. That means apprentice.
I have one cat, a black cat called Spiderpaw. He has a white brand on his chest, and lime eyes. He had Ringworm, we rescued him from horders, and he looks exactly like my best friend's younger cat.
My favorite song is ANY vocaloid song. Don't care what~! Maybe any 7 Deadly Sins songs, or the Lost Silver song.
I like creepypasta.. - does creepy smile-
I like Anime. My favorite anime is Soul Eater, my fave anime characters are Kid (Duh,) Japan, Canada, and England. I like Hetalia.
I speak some japanese.
I am somewhat.. Insane...
When I get lazy, I love to nag people.
MY WARRIORS
only five major ones
Dewrise: This meddy cat! White with black markings, missing an ear and an eye, a crooked paw, ragged fur, a sweeping tail (I told my friend once, and he said 'A squeaky tail? Tell me about it') she's blind, and scarred. She is grumpy, and rather rude. She prefers to keep to herself, (her story will be called Dechire, french for torn apart)
Raintalon- My name! a dark gray she-cat with black stripes, ear tufts FTW, a nick in her ear, her right eye is blind, and she is kind, a nice hunter, and silly (her story is Rainstar's rise.)
Lilac- the rogue, white with a black paw, piercing green eyes, a purple studded collar, she's shy, quiet, and reserved, but in her burns a need for revenge.. (Her story will be called Burning Heart)
Skytalon- Of SkyClan! A pretty white she-cat with brown splotches. She has blue, almost violet eyes. She is dark and misunderstood, and  has her tail cut off (Like Berrynose) (Her story will be a songfic, Servant of Evil)
Moonpelt- Ah, the poor tom. he's a silly tom, a good healer, white with amber eyes, or should I say eye, missing his left eye. He is nice, and DewXMoon is best shipping! (His story will be called Forbidden but always)
STORIES
Rainstar's Rise- a stand alone of Raintalon's life
RANDOM BIG BROTHER WITH OCS-Yeah.. 14 of my ocs.. This will not end well..
Dechire- Probably, most likely, a songfic. French for torn apart, and about Dewrise about her loving Moonpelt and Darkpelt, but also loving her role as Medicine cat.
Servant of Evil- Another songfic! Eeeeeeeeeeek. Skytalon's whole story about her brother being evil, and even dying for him.
Burning Heart- Lilac's story for her revenge. Cloudtail accidently kills her sister, Lavender in the battle of BloodClan and LionClan, and Lilac will not stay fine.
Forbidden but always- Moonpelts life when he finds out Dewrise is expecting his kits.
Rosestem's wish- A super edition. About a cat who lived during Brokenstar's rule. prologue is about her mother.
WARRIORS WATCH OR READ- My warrior cats watch shows, or read books.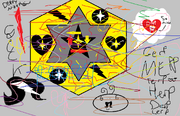 OPINIONS ON UUUU
None yet :DDD
Community content is available under
CC-BY-SA
unless otherwise noted.