I beleive I have returned... Not sure but I wish to stay!
About me!
Name: Isabella (Bella, Poppy)

Birthday: 24th June
Description: 
(human): A tall girl with brown hair and blue/grey eyes and freckles. Is mostly seen wearing hoodies.
(animal): A brown she-cat with a white muzzle, chest + under belly and blue eyes. Has a long black and white fluffy tail + left ear with light brown paws.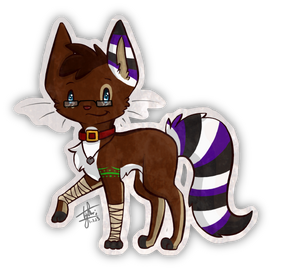 Likes:
Art
Drawing
Graphic Desigin/illustration
Photography
Writing
Animals
All types of food
Sport
Dislikes:
Mainly the work in school
Geese
Early mornings
My spelling
People who just bully me for what I do and like.
Other things
Pets: A cat (called Roxy, who is missing), a parrot (called Ferny), and a dog (called Poppy, I didn't name her)
If ya wanna know anything else 'bout me just ask!
Fan Fic's
The Fate Holder - An old story I never finished. I will change a lot about it now.
Wanna be friends?
Sign here if ya wanna be friends.
Sunny ...Forever young...♥ 19:25, June 20, 2010 (UTC)
--

Arti

I am an epic win, just waiting to happen. :D

19:27, June 20, 2010 (UTC)

Robot

Kitty

17:21, June 22, 2010 (UTC)

Birchy

I am a warrior at heart...

09:08, June 26, 2010 (UTC)
LeopardkitSunClan Forever! 17:28, June 26, 2010 (UTC)

Clover

18:39, June 30, 2010 (UTC)
--

Shinestar

Oakleaf and Fogmist 4ever♥ 01:49, July 28, 2010 (UTC)
Heartsky

Follow your heart

02:56, July 30, 2010 (UTC)
RiverpeltXWolfclaw

I've always loved you, and always will.

14:29, August 5, 2010 (UTC)
Hey there! :D

Good bye, sweet Rosie. May you rest in peace.

00:40, August 11, 2010 (UTC)
I'm glad i know you! Lakeclan

Battles Approaching…

03:35, August 18, 2010 (UTC)
yes yes yes yes! Fireflies

You would not believe your eyes...

Sorry if you've heard this song a million times and never want to hear it again! I like this song!

Hi!

I'm the Rose. I'm awesome because I'm the Rose!

23:36, September 10, 2010 (UTC)
Ummm I'm new here so I don't have a siggie! (hehe)

User:Autumnrose/Sig

20:02, December 12, 2010 (UTC)
Hi!Amber Rain quickly turns into Typhoon... 'HK, the land of the typhoon... 12:15, February 15, 2011 (UTC)
Friends? :D? (I LIKE DRAWING...random)

You may take the cake,

but I still have the LIE. >:3 ) 22:29, May 3, 2012 (UTC)