Line 3:
Line 3:
 
 
 

<big><big><font color="teal">Aka Nighty's page.</font></big></big>

 

<big><big><font color="teal">Aka Nighty's page.</font></big></big>

 
+
 
 
 
 
Line 46:
Line 47:
 
 
 

[[Nevermore]]--WIP. Series.

 

[[Nevermore]]--WIP. Series.

 
+
 
+

[[Dawn of Secrets(Series)]]--WIP. Series.

 
 
 

[[Skyfall]]--Completed. One-shot.

 

[[Skyfall]]--Completed. One-shot.

Line 56:
Line 59:
 
 
 

[[Les Miserables]]--WIP. Songfic album.

 

[[Les Miserables]]--WIP. Songfic album.

 
+
 
+

[[Dawn of Secrets]]

 
 
 

'''8) Are you hella rad?'''

 

'''8) Are you hella rad?'''
---
Revision as of 23:54, 11 November 2013
Welcome to UncoolVille.

Aka Nighty's page.







PAGE UNDER CONSTRUCTION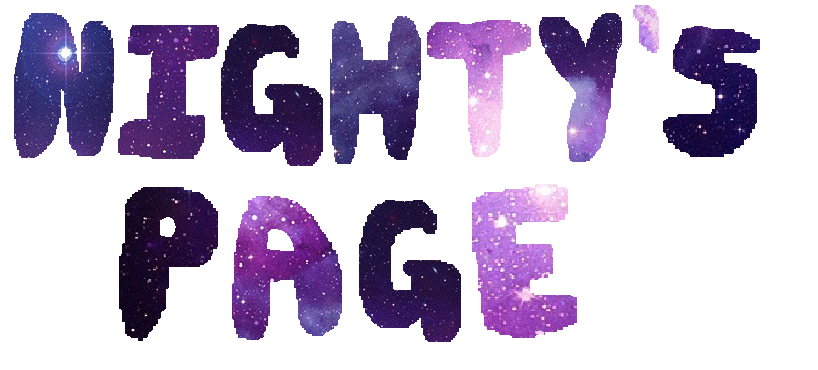 Hi there, Wikians and anons alike, welcome to my userpage. I am Nighty, and I really like cornbread. I'm serious.
Anyways, for you stalkers out there, I'm gonna throw you guys a bone and do a little Q&A.
1) Is you name actually Nighty?
As much as I wish it would be, no. My real name is Frannie, but you can call me Nighty, Nighters, or Nightshimmer. Call me whatever you want.
2) How old are you?
I am around thirteen. (My birthday's in March.)
3) What gender are you?
I was born a girl, but I don't like letting pronouns define me. So he or she is fine. :)
4) What are your favorite TV shows/books/etc.?
My favorite shows as of now are Doctor Who, Supernatural, and Brain Games. My favorite books are The Book Thief by Markus Zusak and the Throne of Glass series by Sarah J. Maas. My favorite etcs are Tumblr, softball, and browsing through bad Gravity Falls recolors, courtesy of the Instagram Gravity Falls fandom. 
5) How did you discover Warriors?
Through a boy in my second grade class named Harrison. 
6) Do you write outside of here?
I do! I write for my school Creative Writing class, and try to be on Wattpad. (My Watty is omgshutup, without the comma obviously.)
7) Where can I read your obviously super-duper-amazing stories, o great and powerful Nighty?
I will be posting links soon, as I am very lazy. I gave away most of my old ones before I left the wiki last summer, but I still have a few.
Nevermore--WIP. Series.
Dawn of Secrets(Series)--WIP. Series.
Skyfall--Completed. One-shot.
Dark Side--Completed. Songfic.
Safe and Sound Songfic--Completed. Songfic.
Who You Really Are--WIP. Songfic.
Les Miserables--WIP. Songfic album.
Dawn of Secrets
8) Are you hella rad?
You bet your sun-reddened buttocks.