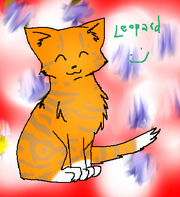 About me
I luv Warriors, so why not write a few stories of my own? I've written, like, one story, and it's really bad.
Friends
I do not have a ton of friends in real life, 'cause I guess I'm wierd! xD But if you want to be friends with the computer me and not the peculiar, pimply me, I guess it's okay then! Leave your sig, I guess
Shamwow! Eveningswift :) 15:36, January 31, 2010 (UTC)
Yahooey! Forest-lover ♫☼♪ 15:17, February 1, 2010 (UTC)
Can I be ur friend?? I don't have to if you don't want to. Pebbleshine was here!! 15:28, February 2, 2010 (UTC)
Heyo Leopard!! Buddies?
16:08, February 2, 2010 (UTC)
My favorite pages
Mine
My Sister's