Line 31:
Line 31:
 

'''''Stories'''''

 

'''''Stories'''''

 

* [[The Life of Nobility]]- The story I wrote about Firestar's (sobs) death. It makes me sad...

 

* [[The Life of Nobility]]- The story I wrote about Firestar's (sobs) death. It makes me sad...

−

* [[The Holiday Clans]]- My second story, and I need your help with charater ideas

+

* [[The Holiday Clans]]- My second story,

 

* [[The Fierce Sorrow]]- Third, it's about Whitestorm, and it is poorly laid out and terribly written.

 

* [[The Fierce Sorrow]]- Third, it's about Whitestorm, and it is poorly laid out and terribly written.

 
 
Line 39:
Line 39:
 

* [[Mosskit]]- About Bluestar's kit who had a tragic and short life.

 

* [[Mosskit]]- About Bluestar's kit who had a tragic and short life.

 
 
 
+

===Others I feel like metioning===

−

==My Favorites==

 
 

*[[Goldenflower's Pain]]- [[User:Artimas Hunter|Artimas Hunter]] wrote this, and it's AMAZING! It's like a sister poem to [[His Loss]]!

 

*[[Goldenflower's Pain]]- [[User:Artimas Hunter|Artimas Hunter]] wrote this, and it's AMAZING! It's like a sister poem to [[His Loss]]!

 
+

*[[Tigerstar- a cat]]- My sister [[User: Shinestar|Shinestar]] wrote this.

−

*[[Warrior Swears]]- Let's face it, people, you can't get much better than this!

 
 
+
−

*Others, but I have to go now!

 
 
+

===Ideas===

 
+

On my RP site, my two main cats had 4 kits, 3 she cats & a tom. Mistykit, Honeykit, Ashkit and Lilykit. I'm thinking of making a plot twist, because our site is WAAAY too laid back for an actull fan fiction. It involes the uprising of a new clan, who's warrior, Blackpelt, is haunting the weakest kit's dreams, starting a domiono effect... DUN DUN DUn (thunder sounds xD)

 
+

==Polls==

 
+
 
+

===Stories===

 
+

<poll>

 
+

Q: Which Story/Poem I've written is the best?

 
+

The Fierce Sorrow

 
+

The Holiday Clans- Co-written with my sister Shinestar

 
+

The Fierce Sorrow

 
+

His Loss

 
+

His Family

 
+

Mosskit

 
+

</poll>

 
+

===Kit's Warrior Names===

 
+

====Mistykit====

 
+

<poll>

 
+

Q: What should Mistykit's name be? (Pale Gray Tabby She-Kit with Pale, Pale Green Eyes)

 
+

Mistyleaf

 
+

Mistynose

 
+

Mistypath

 
+

Mistycloud (Also in our clan- MistySUN xD)

 
+

Mistypelt

 
+

Mistyflower

 
+

Mistyfrost

 
+

Other (Please Tell Bellow)

 
+

</poll>

 
+
 
+

====Honeykit====

 
+

<poll>

 
+

Q:What should Honeykit's name be? (Golden, Fluffy Furred She-Kit with Brown Eyes, Very Light Tabby Stripes and a Lighter Underbelly)

 
+

Honeyheart

 
+

Honeynose

 
+

Honeypelt

 
+

Honeyfoot

 
+

Honeyflower

 
+

Honeycloud

 
+

Other (Please Tell Below)

 
+

</poll>

 
+
 
+

====Ashkit====

 
+

<poll>

 
+

Q: Ashkit's Name? (Charcoal Tom Kit with Hardly Visible Tabby Stripes, Light Paws, and VERY Pale Blue Eyes)

 
+

Ashpelt

 
+

Ashfrost

 
+

Ashwhisker

 
+

Ashstorm

 
+

Asheyes

 
+

Other (Please Tell Below)

 
+

</poll>

 
+
 
+

====Lilykit====

 
+

<poll>

 
+

Q: Lilykit's? (Light Brown Mackeral Tabby Brown Eyes)

 
+

Lilypetal

 
+

Lilynose

 
+

Lilypelt

 
+

Lilypath

 
+

Lilyleaf

 
+

Lilycloud

 
+

Other (Please Tell Below)

 
+

</poll>
---
Revision as of 22:58, 21 February 2010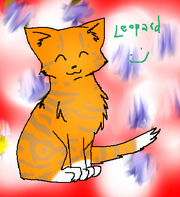 About me
I luv Warriors, so why not write a few stories of my own? I've written, like, one story, and it's really bad.
Friends
I do not have a ton of friends in real life, 'cause I guess I'm wierd! xD But if you want to be friends with the computer me and not the peculiar, pimply me, I guess it's okay then! Leave your sig, I guess
Shamwow! Eveningswift :) 15:36, January 31, 2010 (UTC)
Yahooey! Forest-lover ♫☼♪ 15:17, February 1, 2010 (UTC)
Can I be ur friend?? I don't have to if you don't want to. Pebbleshine was here!! 15:28, February 2, 2010 (UTC)
Heyo Leopard!! Buddies?
16:08, February 2, 2010 (UTC)
Can we be friends?--Artimas HunterWelcome to Bramblepath's Den 19:01, February 20, 2010 (UTC)

Kinda twins, same bedroom, same bed, (bunk bed, she has the top!) --♥Shinestar♥ 20:12, February 20, 2010 (UTC)
My Stories
Stories
Poems
His Loss- A sad poem about a cat's true grief. You have to read it to fully understand it.
His Family- It's about the damage Tigerstar has done to his own kin.
Mosskit- About Bluestar's kit who had a tragic and short life.
Others I feel like metioning
Ideas
On my RP site, my two main cats had 4 kits, 3 she cats & a tom. Mistykit, Honeykit, Ashkit and Lilykit. I'm thinking of making a plot twist, because our site is WAAAY too laid back for an actull fan fiction. It involes the uprising of a new clan, who's warrior, Blackpelt, is haunting the weakest kit's dreams, starting a domiono effect... DUN DUN DUn (thunder sounds xD)
Polls
Stories
Kit's Warrior Names
Mistykit
Honeykit
Ashkit
Lilykit