Hi there, I'm Hawky. I used to edit here a lot, but now that has certainly subsided (sadly).. If you ever want to join my wiki, see here.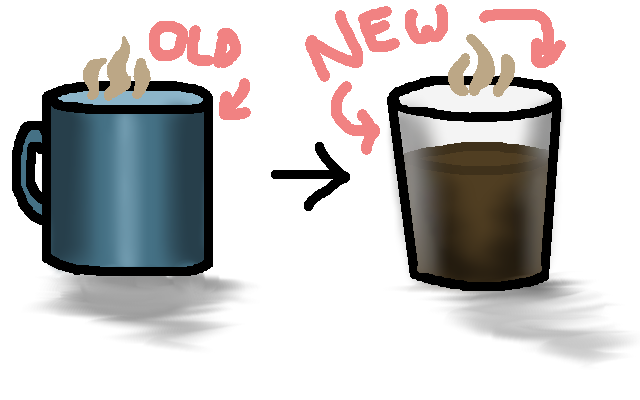 A Glass of Coffee is the new Cup of Coffee...when my Dad accidentally poured coffee into a glass! XD
Thoughts on Other Users
YOUR BESTEST BUDDY! *dances*
- Rainy, dear Rainy. The bestest, and the first, friend that I had on the wiki, (besides Strikeh and Meadow and Robo) and she is AMAZING!!! She made my beautiful signature which I love, and she is super-helpfull, sweetm funny, smart. . . All those amazing things! I am looking forward to reading ALL of her fanfictions, because a newbie's gotta do what a newbie's gotta do. Did I mention she is AWESOMELY AMAZINGLY SPECTACULAR!!??? <3
YOUR BESTEST BESTEST BUDDY ;) - Robo is amazing, although I haven't seen very much of her lately. She is amazing at writing fanfictions, and I miss the days when she would argue with Rainy over Dan Kuso.
YOUR BESTEST BESTEST BESTEST BUDDY! :3 - Obviously, if you don't know Fuzzy, you have bees in your brain! She is Epic, like, EPIC!!! She is a funny person, because we must all fear thy Fuzzy. But beware, there is a risk, that if you tak to her, you will get the "I LOVE FUZZY!!!" desease. I have it, no kidding. I will NEVER cure it!! She is the one and only, smart, hilarous, amazing Fuzzy, if you didn't catch it. ;) <3
*dresses up as one of the seven dwarfs* HI-HO! HI-HO! IT'S OFF TO WORK I GO! - Tangle, oh Tangle. The super-enthusiatic friend of mine. Tangle is like the best person on this Earth, and stay classy. He is fun to RP with, and hie has a great sense of humor. He is so nice, epic, awesome, this list goes on FOREVER! Big Brother: ThunderClan is hilarious, dude, like seriously. AND ME GUEST STARRING WAS AMAZING! He is awesome!!! <3
Uh... Oh, I WAS ONE OF YOUR FIRST FRIENDS! XD - Where do I begin? She, along with a long list of other users, was one of the very first friends I had on the wiki, she still is one of the closest! She is super responsible, enthusiastic, amazing. . . all of these wonderful things. If you don't know her, you just HAVE to meet her. She is one of my bestest friends, and she shall not forget that!!! I love rolplaying with her, and I miss chatting with y'all. <3
The Electric Icy Rush Feather of the Crane - The user with the longest name that I know of, Feather is super friendly. She has the most CREATIVE name I know of (besides Robo!) and she is like family to me! Super cool, epicly responsible, amazingly hilarious. . . I mean EVER SINGLE WORD in this paragraph. <3
I...don't know you...but...hi. xD - This is my epic aquaintance, Nighty. Also, I may love avocados, but Nighty beats all avocados! I am serious. But once I know more about Nighty, I'll put more. Also, I'd like to know her better, so, to be continued. . .
Floatie McBoatie - HOW DE YEH LIKE DEM APPLES U SILLY RUSSIANS XD - Oh Floatie, you and your crazy username. I can say that Floatie is smart, patient and kind, and has the cutest username ever! I can't wait to read your fanfics Princess Milk. You are spectacular, Floatie! <3
You don't know me but....*clears throat* HI! - Yes, I know you! You are the amazing person that made this amazing product. *Looks up into the sky* Anywho, HIMG is cool beans. She rocks, and the hugest fan of Pugs that I know of. She is real funny, and she is amzing with coding. If only you hadn't given away IATC:GMOOH! But still, she is amazing! <3
I'm so Awesome. Yup. I'm so Awesome I deserve a capital letter: Moss - You got it, Moss. Moss is one of my new besties for life, and she is Awesome indeed. I can say that Moss is hilarious, just 'cause she is, and Awesome, and coolioz. Moss' sister is cool, too. Now, stay Epic, my friend, STAY EPIC! <3
Your Eevee buddy! :D ~ Eevee! My pal with a love for the eeveelutions, which are also some of my favorite Pokémon, along with Ninetales, Milotic, and Dragonair. She is real funny, i tell y'all that, and she deserves her little icon on the NC chat. You're awesome, Eevee!
We have da same Nickname!! xD ~ Yes we dooooo! xD Hawkeh is mah new bud, and I'm just saying that her user name prefix is ftw~ I don't know Hawkeh too well I'm working on it >:D but I know we will be best buds soon! :D