The November 2010 diary... enjoy.
November 1st, 2010
What a day, what a day...
In heath, I watched THE most disturbing thing I have EVER seen. Things died right before my eyes, and they weren't bugs.
The movie was called Food, Inc. (rated PG13) and it was about, well, food. It was telling us the source of our food (the animals) and why we had it so quickly.
Ever heard of feeding cows (which traditionally eat grass) genetically modified (GMO) corn? No? Well, apparently, it speeds up growth. But then farmers have to reach inside and PULL IT OUT. It was gross.
You can also patent seeds. That annoyed the H-E-double-hockey-stick out of me. Who ever said you could own the beginning of life? (Answer: America did.)
The whole point of all of this is to get food to us cheap and easily, like we asked for. But this food, this horrible, horrible food, makes us sick. (ex. E. coli can kill you in 12 days. Maybe less.) Bad sick.
If we were willing to pay just a LITTLE bit more, don't you think this could end?
On a different note, in Geometry my seat got switched.
Final Grades for quarter:
Healthful Living - A
Geometry - B
English - B
Visual Arts 1 - A
That earns me $20! Wooo!
November 3rd, 2010
Okay, wow. Interesting life.
In Art, we're building a giant model of Bikini Bottom (Spongebob) out of paper mache... we got Gary (the snail). He's looking really good- I'll have to take my camera to show you guys. :)
In math... God... just... it's math...
Heath- we got the "Sexual Safety" Packet. Oh, God, so many words that are looked down upon in society just for being what they name...
But everyone today was comparing wallpapers on their phones- theme, Spongebob. The kid next to me won. xD
November 4th, 2010
WE ARE ALMOST DONE WITH GARY. I am soooo excited- all we have to do now is put him together, and in art, we're watching Spongebob tomorrow. So pumped.
Geometry- my teacher did something that reminded me so much of Ms. Matherly (ADD Social Studies teacher from last year). It made me grin like an idiot.
HARRY POTTER CLUB. OMG. Soooo amazing. We are doing a Horcrux Hunt in 2 weeks (the day of the Deathly Hallows Part 1 Premiere). My goal (warning- extreme spoilers ahead)- GET HARRY.
(No more spoilers) Also, in art, I found out that my teacher purposely made me get an A. Pretty proud of that.
November 5th, 2010
Overly perverted mind + STD unit in health = Disturbed Foresty.
She starts off by saying, "Oh, well, don't ask about me, I won't ask about you." We're all like, "YOU'RE PREGNANT." Then she says, "Yeah."
Later: She says, "You can ask me anything: I've been trained and I've heard everything. I don't bias you, like your parents. But your parents are the BEST source." With a crazy grin, she adds, "Okay, maybe I'm the best source. But ask your parents stuff anyway."
With that, the lesson proceeds, covering the most disgusting stuff possible. By the end, I was disturbed (STD-wise), and we are probably continuing on Monday and possibly Tuesday.
In Geometry, I was bored.
In English, I was bored.
At lunch, somebody had an allergic reaction, but I thought she was choking (both: bad), so I was getting ready to do the Heimlich Maneuver (basic babysitting training, LOL), but she managed to gasp out that she had an allergy to something in her sandwich, so I didn't. So we all tried to help her as best as we could without drawing TOO much attention. Some boy went and bought her water (aww ☺), and we all tried to help (except one girl doesn't like her (okay, she HATES her), and I can't/don't deal with crying people, I can only help Goldenheart and my brother).
Art- WE WATCHED SPONGEBOB SQUAREPANTS: THE MOVIE. IT WAS SOOO EPIC. xD
We have NOT finished Gary- we were too caught up in watching the movie.
After school- I discovered that my crush last year JUST GOT A FACEBOOK (he went and found me ☺), so now I'm super excited because... yeah... I think I still like him.
...And... I think I just got rejected. *sigh*
November 6th, 2010
Last night, I went to bed tired of guys and confused. My heart was broken, my soul was sucked away.
We had been friends. I had loved him, I swear, and then we got separated. And he doesn't even miss me.
So that ruined my life.

On the upper hand, let's all give our hands to my Varsity Volleyball team- officially the best in the state and the 5th best in the nation. Woo. Cheer. *sob*
November 7th, 2010
Still angry about Jerkface up there. *points to Nov. 6th* I wish he would die and I didn't have to deal with him.
Because I still like him.
I hate myself.
November 8th, 2010
I'm still hating myself... is this unconditional love?
Anyway- today...
Got a quiz back in English. I saw a note on number 19.
The quiz was a vocabulary quiz, and numbers 18-20 were to write a sentence with the given word.
My sentence was "The thirteen-year-old girl was infatuated; her grades and relationships suffered." (Infatuated means to be obsessed with a ridiculous love.)
At the bottom, my teacher had written a note, and I QUOTE: "Good sentence but thirteen year old girls do not need boyfriends. Thank you for the laugh!"
I mean... double-you-tee-eff?
Geometry is getting better...
Every day we have a study session, which is basically pairing up with friends and "doing Geometry."
Well, every day my friends run up to MY desk (right next to the teacher's) with their stuff and we work together.
ANYWAY, my teacher always either doesn't care or manages to hide the fact that she's listening, but today she was laughing. Me and my friends were like, "Wow..." and gossiped about her after class (as usual, LOL).
Health. Just BAD.
Art!
We finished Bikini Bottom! Took a whole bunch of pics on my phone, I'm going to try and upload them somehow. It'll be fun.
We started clay (FINALLY, NO MORE DRAWING!). It's pretty fun.
November 9th, 2010
Ah. Lunch = weird experience...
A weird girl thinks she's my friend (and, don't mean to be rude, SHE'S NOT. GOD.) and today she decided (like she does every day, ahh) to sit with us. I don't mind once a month, maybe, but not every day.
Anyway, today conversation turned to my scar.
She says, "Can I touch it?"
God. "No!" It still hurts. It's been 3½ months.
She protests. "I'm a doctor-in-training! It looks swollen and infected!" Isn't that a great reason NOT to touch it?
"No, my neck is where people choke me," I reply.
"Oh," she says, and for a moment I think she's going to back off and hopefully leave. I would be content with either one.
"I'm going to touch it, anyway!" she declares, reaching for my neck. My place. My haven, which itches like crazy and has a scar. It's my place. MINE.
So I, being me, slap her hand away.
She starts to cry.
What should I do? I apologize, sounding sorry but really not, because she's in the wrong, obviously, and get up and walk away.
I mean, what should I have done?
November 10th, 2010
Health- test. UGHHH SOOO ANNOYING. The annoying girl next to me (Vinetail) NEVER SHUT UP. EVER. The entire hour we were allotted. Never ended. "Blah blah blah blah BOYFRIEND blah blah blah KISS blah blah blah blah"
My health teacher got mad at the BOTH of us because I kept telling her to shut up. Very angry.
Geometry- you guessed it, TEST! (LOL) I was very nervous. My teacher was sitting right.there. and I HAVE to get a B. Like HAVE to. Thank GOD there was a bonus.
English- accidentally drew Epic Jesus. He was pretty good...
Art- FUNNY. Endless taunts, pwns, and mistakes (ex. a kid had been wearing his shirt backwards all day). My stuff is looking great- I'm very excited to see how it turns out...
November 11th, 2010
Today deserves a ☺.
I went to Cici's with Goldenheart- saw Mrs. Feldman there with her son and his friend... very excited about that. But it was also extremely awkward. But I was still pretty pumped.
Then we (just me and Goldenheart) went and saw The Social Network. It's rated PG13 for a reason... js. And it's really, REALLY, REALLY long.
November 12th, 2010
Today... I dunno...
Health- boring.
Geometry- I GOT AN 84 ON MY TEST. That is 1 point below a B in my school.
That sucks for me.
And I hate my teacher. The bonus on my test had 4 possible answers. I got them all. Full points, right?
WRONG.. See, I had four OTHER answers that ALSO worked.
Full points, right?
No. NO POINTS WERE AWARDED. I worked so long on that bonus. I HAD THE RIGHT ANSWER.
Gah!
English- *moan*
Art- Meh.
Had stranded on my mind all day... they're having a soda party with a cooler they found in the ocean. LOL.
November 13th, 2010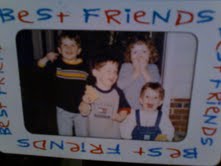 Last night was fun- saw this dude I haven't seen in a while- I found this picture of us. Soo cute...
November 16th, 2010
Today SUCKED.
For starters, I woke up positively ACHING. My lower back, my thighs, my arms, my shoulders. That made me look forward to stretching in gym, but of course...
No gym today. We went to the computer lab. I thought I had forgotten the password. Changed it twice before Lab Teacher #1 realized two keys were switched around... that really ticked me off.
Up Side: Vinetail doesn't have three classes with me next semester, ONLY TWO. Mwahahahahahaha!
Geometry... I hurt all over, couldn't concentrate.
English: Boring. Was pretty miserable, couldn't even lift a chair...
Lunch: I'm in love with a guy with possibilities... but if I told him at this point, he'd either hate me, make fun of me forever... or love me back. (10% chance of that, folks.)
Art: Cool project Friday. Mosaic out of balloons... of the Mona Lisa, and the only way we can see the finished project is going on the roof. But today sucked.
Driver's Ed: Two huge tests. 100 questions each. Very stressful...
I have a doctor's appointment with Evil Surgeon tomorrow... I'm leaving Art early (I love it and hate it. So... yay?). Wish me luck.
November 17th, 2010
Today ALSO sucked.
Gym: Bad. Played Matball, thought I would like it... was boring. Guy overrule, and I sucked.
Geometry: Not too bad, an average day in Geometry. Y'know.
English: *moan*
Lunch: *moan* Longest lunch period ever. I'll explain tomorrow.
Art: Began to paint something.
I had to leave Art early to go to the doctor. NO, sorry, the SURGEON.
I WAITED THREE HOURS. I am so MAD!
The appointment was FIVE MINUTES. I have two MORE appointments later in the school year.
I still have homework. And DINNER.
November 18th, 2010
Today... not too bad.
Gym: HORRIBLE. SUCKISH. FRICKEN' FREEZING. We played Ultimate (otherwise known as Ultimate Frisbee). I scored. I scored again. But I couldn't score twice because I'm a girls and girls can't participate in gym, according to guys. (My reaction? A slap across the face with the frisbee. *smirk*)
Geometry: UM? I never asked for a test THAT hard. A quiz was one thing. But the TEST. My GOD. It was hard. And I knew everything. EVERYONE came out and was like "OMS that was hard."
English: Blegh. Just... blegh.
Lunch: I said I would explain lunch yesterday today... so... um... just look below.
Art: *sigh* Good, bad, it's always the same. My painting sucks, I painted the bird wrong and now it looks like a flying feather. Not what I wanted, but my teacher says to 'turn your mistakes into art' so I just might do that...
Harry Potter Club: THE HIGHLIGHT OF MY DAY. Oh my God.
We did a Horcrux Hunt. My House (Gryffindor, I am one of 7. Every other house has, like 15 members) ran and ran around the school. We chugged butterbeer (legit.) and acted and ran and ran and ran the Quaffle down the football field with a broomstick (legit.). In the end, we came in second to the Ravenclaws (about 15/16 of them today). Not too bad.
Driver's Ed: Yesterday, at lunch (here we go), the results were posted. The list said that I failed. (Me? Fail? I-don't-THINK-so.) I was miserable the rest of lunch...
BUT. Today after Harry Potter Club, the teacher found me and told me she had made a mistake, I PASSED. I FINISHED DRIVER'S ED! I am sooo proud of myself.
After Everything: Mom guilt-tripped me into not doing something that I did ONCE and I'm not doing it again... I can't even put it to words, I'm so embarrassed. I never even meant for them to find out (and, no, it's not detention), and now I'm a boatload of trouble. So... yeah... that's what ruined my day.
November 19th, 2010
Hm.
Gym: We played Matball again today. LOL.
A kid leaped to avoid being pegged in the head and instead got NAILED in the balls- and then we heard his back crack as he hit the ground. (He's fine.) After he stood, moaning, we all cracked up.
Another kid was running the bases, and he randomly fell on his face as somebody threw the ball, causing the kid that he was blocking to get hit. IT WAS SO FUNNY. xD
Geometry: Weirdly entertaining. My teacher kept a light mood (a.k.a. happy), so it was all good.
English: Gave my coat to somebody, they paid me with M&Ms. xD
Lunch: Normal. Bought good fries.
Art: Today was the Mona Lisa project- we built her out of balloons. She rocked. I'll post pictures later...
Right now, I got a doctor's appointment (again, I think I need a shot... hmph.)
Ohyeah- wrote a story about a couple on Stranded (Arti, you know who ☺). It's nice.
November 21st, 2010
So, after laying on my stomach and changing the ink cartridge in the printer (now my chest hurts), I think I'm ready to print... my first English project due tomorrow.
Because, YES, I have ANOTHER, also due tomorrow! Gah!
It's two projects with partners. I have the same for both. And- OMG- she's making me do it all.
Yesterday was the 'rent's 17th, very happy for them (and for me, they're still together, yay!).
I also had a six-hour, four-child babysitting job yesterday. I got paid to play Wii and watch the Food Channel.
And there were two families. I'm hoping for more money. :)
Today, after I finish the other English project, imma do Geometry. (Right triangle unit... really?)
November 22nd, 2010
Notable things today:
Kid cut his balls- they bled. He cried.
Ever heard of a paper stretcher?
Otherwise, blegh. I'm tired, don't feel like going through today like I usually do.
November 26th, 2010
Came on to tell you about my dream the night of the 22nd... and it's been on my mind for a while.
It's not bad lol.
Well, the first part is. *settles in chair*
I'll summarize the disgusting part- all my organs fell out. Walked around as a skinsack for half the dream waiting for the surgeon. It was my Geometry teacher in scrubs (she looked nice, actually) and she put me back together.
So the next day in school I walked in (lots of scars) and thanked her and we were like, BFFs, and then I had to sit through a Geometry class in my dream (like 90 times isn't enough, now I have to do it in a dream) and then I went to English.
The HOTTEST guy in the class asked me out. The dream skipped to the date and all it was was us watching the television and sitting very close and holding hands. And that was absolutely, totally it. Because after a while of Spongebob he had to go and I got a call on my shell. "Annie, we need help!"
So I hopped in my hot air balloon and flew to the Waterpark, where there was an evil villan ruining everyone's day.
I used Geometry (see? Now I'm dreaming bad dreams) and my hot air balloon to save the day (the 'villan' was a man peeing in a waterslide LOL) and my boyfriend (in the dream, I wish it was real-life), who had fallen into the clutches of the King who lived in the castle above the Waterpark.
Yeah. Then my alarm went off and I felt cheated. xD
November 29th, 2010
Today... hmmmmm...
GYM FREAKING SUCKED. Oh my God. It was cold. My body was numb and cold and I couldn't feel my legs. And in Gym you gotta have the use of your legs and arms. We ran and ran and never stopped and when we finished running we ran again. Thank God there was only and hour and a half of class or she would have made us run all day. I ended up running 6 miles, one of the highest totals in the class. (For the record, the lowest was 3 miles and the highest was 7.) There was barfing.
Yeah, so I limped, tugged myself, and moaned my way to Geometry, where we learned some nonsense about some other nonsense. It was insane.
Then, of course, when we were doing group work my teacher was like "I saw you running! How far did you run?" (Me: "Six miles.") Then she said that it looked like more and that I was dang FAST, to which I replied "I was one of the fastest, but I definitely wasn't going fast." The Geometry teacher replied with a rude comment about my health teacher (something about pregnancy...) and let me go. By then most of the kids were staring and the cross country kids were like "Hahahaha we could have run 10." Too bad, prove it, jerks.
By English I was pretty dang annoyed, and English itself didn't help. I sat next to my crush (SOOO HOTTTTTTT) and he kind of watched me doodle two hearts. Thank God we were talking about Romeo and Juliet or he would have suspected something. (Rule #1 about a crush: Don't ever let them suspect something in danger of the fact that they might not like it...)
Lunch was just stupid. Waste of my time.
So was Art. But that was where the highlight of my day was...
I was pouring paint into a plastic cup when my teacher decides to make us all shut up and sit down. She let me stand because I was getting paint and stuff.
But the paint wasn't coming out. So I absentmindedly turned around and listened to her (boring, ongoing, etc.) directions about what to do when we finished.
And then everyone says, "OHHHHHHHHHHHHH ANNIE LET PAINT GO ON THE CARPET." And I had without noticing.
My teacher walked up, admired it, then got out the black paint and drew a little arrow next to it and labeled it "headphones", and asked me to sign my name.
She started something I called "carpet art". It was pretty epic.
So... I have Geometry homework right now and I have GOT to crack the books. Or I'll fail at the quiz tomorrow. Peace. :)
November 30th, 2010
You know, today I woke up and I was like, "I will succeed today. Today, I will find a boyfriend."
Fail.
I don't even know why I thought that. But I did.
Gym, made it to third base in matball. Wasn't nearly as bad as yesterday because I kept making Vinetail scream like a girl. (She is a girl.)
Geometry, mehhhh.
English, double meh. But she's making us act out (on stage) Romeo and Juliet. And somebody has to be Romeo, and somebody has to be Juliet... and she's choosing out of a hat. So I don't have high hopes.
Lunch, mehhh.
Art, FINALLY exploded at my table. The complete JERK that sits next to me finally ticked me off enough to want to beat him down. So I beat him down with words. And my teacher only said "Good job." LOL
Yeah. So MY DAY SUCKED. And I have a doctor's appointment tomorrow with a dermatologist that's gonna apply a LASER to my SCAR.
Community content is available under
CC-BY-SA
unless otherwise noted.