Me, also my OC
Hello everyone and a little bit about me: I've been DJ Wolfy ever since I've started my career in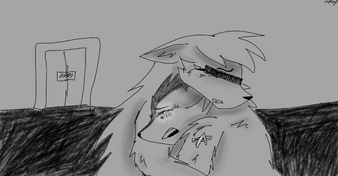 writing and drawing. I've just started to draw on the computer so my work outside of the computer is a million times better. It's probably because I don't have the proper equipment for the job. Anyhow, people who know me know I don't like surprises (mostly because I don't like waiting :3) and I can't live without music. I am open to all constructive criticism, and will give my own opinion in constructive criticism too. Feel free to ask any questions and I would love to read your work!
Also, I would be very appreciative if you called me by my nickname: Nightjay. Thank you SO much!
I have an OC named Nightjay- she is a white wolf with a black streak going from her nose to her upper forehead. She also has black on her ears and her chest and underbelly. She also has brown eyes twinkling with the slightest blue.  
I am proud to admit that I am a major Star Trek fan, and might not be online all the time because I might be working on my Star Trek mini series. If you see me write: "Live Long and Prosper," at the end or beginning of something, that is a Star Trek reference. It's from the original series from Mr. Spock. I am also EXTREMELY excited about Star Trek, Picard (the new one that came out). I want to keep talking about Star Trek- which I would do with much pleasure -but this is not about Star Trek, sadly.  
Also, I have a blog. So feel free to check that out, too! :)  
~ Live Long and Prosper ~
 -Lieutenant Commander Nightjay Wolf 
My Pages
My Blog Pages:
warriorsfanfic.fandom.com/wiki/User_blog:DJ_Wolfy7/Why_Star_Trek%3F (Why Star Trek?)
warriorsfanfic.fandom.com/wiki/User_blog:DJ_Wolfy7/Shadows_of_the_Past (Shadows of the Past)
Community content is available under
CC-BY-SA
unless otherwise noted.