Line 13:
Line 13:
 
 
 

-Pizza Moron

 

-Pizza Moron

 
+
 
+

P.S. My IP is 75.71.172.86. Unban it. Now. Or at least ban me for a month. Seriously, Birchy would hate you for banning me for a long time.

 
 
 

<!---- Begin Floaty Thingy ---->

 

<!---- Begin Floaty Thingy ---->
---
Revision as of 04:23, 17 December 2012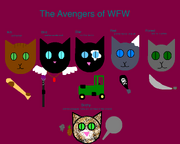 Notice: A Message is waiting for you.
Hello, Ms. Hunter.
Why did you try to ban me for 1000 years? Why? Besides, I think you mean 1000 seconds. Yeah. Banned for One Month. And for One Month ONLY! Try to change that and you're fucked. Yeah. I'm back, and vandalizing you unless you close this wiki down. It's USELESS! The reason why it's useless is because there's already ANOTHER fanfiction archive named Fanfiction.com. Besides, you can run a wiki well enough but why for Fanfiction? Wikia is for KNOWLEDGE, not FANFICTION. How about a wiki about cats from 2Channel? That would be nice, or even a wiki about bad products? Seriously, you do good on wikis, yet this wiki is what you came up with? GROW UP, ARTIMAS HUNTER! 
Though, Fanfiction is the perfect place for fanfiction, not a wiki. You don't have to stop vandals from editing your fanfiction. I'm only giving you an example. I'm not going to vandalize anymore. Just Quit This "Wiki," Hunter.
Just keep the ban for 1 month, okay? Besides, I'm going to sing The Internationale while being in a heat wave with winter clothes on instead of singing O Canada naked. But try to take this your way and you're going to the highway.
-Pizza Moron
P.S. My IP is 75.71.172.86. Unban it. Now. Or at least ban me for a month. Seriously, Birchy would hate you for banning me for a long time.


---> From Foresty. :D

NOTE: I'm renovating my user page. It'll probably take like, 5 minutes, but just in case I screw it up (and I will screw it up. XD) don't freak out. lol.
About me
Sup? I'm Artimas Hunter (call me Arti. No idea why I made such a long user name. -_- lol). I'm one of the admins here and I'm usually pretty active. I'm the leader of WindClan, a frequent writer, I oversee the Warriors Idol, and I'm always around for a chat.
So....um...enjoy the wiki! And come to me if ya need anything.
Random Stuff
I developed this code thing for stories that are on break. If you'd like to put this on your story to let fans know you will continue at a later point, feel free to use it! You can change the colors and the width of the border and the text if you'd like, but this is the generic one I'll be using....Please note that I am incredibly proud of this even though I mostly cut and paste because I am such a fail at coding. xDD
Community content is available under
CC-BY-SA
unless otherwise noted.