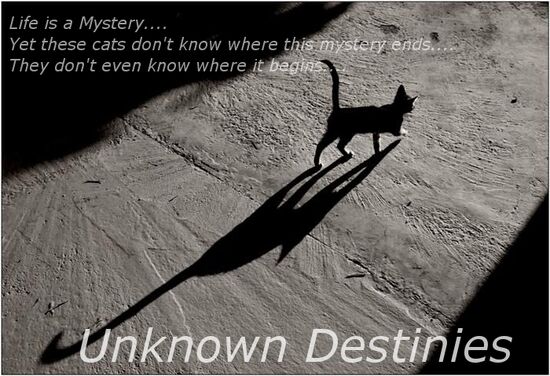 ABOUT: Four cats chasing their destinies, they are pushed around and are never truly givin anything. They call themselves, Unknown Destinies. Find out what happens to these four adventuring cats.
GENRE: Thriller, Action, Drama, Romance, Adventure, Death by awesomeness and epical powers
The Series and Extras
Fans?
I AM THE BIGGEST FANNN Icefall Icy Winds 00:06, June 15, 2010 (UTC)
NO I AM HEHE =3 Vaan "So, Fran... how old are you?" 00:08, June 15, 2010 (UTC)
This series is awesome, good job Wetty. :D --Goth MonkeyPiece by piece I lost my sainity to the penguins. 00:11, June 15, 2010 (UTC)
WOOOOO! FP Coolr than you 23:39, June 19, 2010 (UTC)
No i is biggest fan SandBOO...Trick or treat 02:29, October 23, 2010 (UTC)
By:
Community content is available under
CC-BY-SA
unless otherwise noted.