This is a series of books written by me, Mistysun.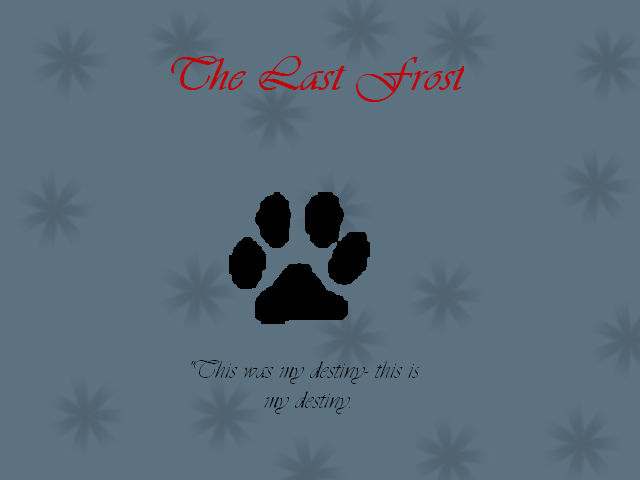 Books
Set One:
Book 1: The Last Frost (Status: Finished!)
Book 2: Shadows in the Snow (Status: Barley started)
Book 3:
Spin offs/ Mini Stories
(See: The Last Frost/Mini Stories for more info)
Extras
The Last Frost/Characters - Learn all about all the characters in the The Last Frost. Get inside info about them, see pics of them, and more!
The Last Frost/Mini Stories - Three different mini storys/spin off storys feauturing characters and places from The Last Frost. Learn character's past and true feelings, and what made them who they are now, as well as some history on the story.
The Last Frost/Extra Info - Ever wanted to know why Frogpaw and Mistpaw used to get along so well? Or who Scar's group really is? Read about this along with trilloins of other facts about The Last Frost Series.
Fans
Me!!!Check out the awesomeness of my LAME siggy! 21:38, August 9, 2010 (UTC)
Me! duh! Blaze I have my freedom! Finally! ¬_¬ 20:29, August 18, 2010 (UTC)\
I only read the first book, but it's GREAT! :D -Leafpaw 15:07, August 19, 2010 (UTC)
Blurbs
Blurb for The Last Frost: When Mistpaw becomes an apprentice, she knows she won't be one for long. Because soon she sets upon a journey- one that will change her life for ever- as she tries to uncover who she really is and Mosstail's secret. But she never knew how hard it was actually going to be...
The Last Frost Artwork
This is all the artwork having to do with The Last Frost series. It's mostly Characters
Thx to Evningswift, TPL, Treestar and Aqua for making these pictures. If you want to make artwork for The Last Frost, feel free!!!
Community content is available under
CC-BY-SA
unless otherwise noted.