This page contains a fan fiction written by Silverwhisker.
This page contains the opinions of the original author(s), and is not patrolled for factual accuracy.
Remember that this story is non-canon. It may contain false characters, plots, or locations.
Responses, comments & other feedback should be made on the comments section below.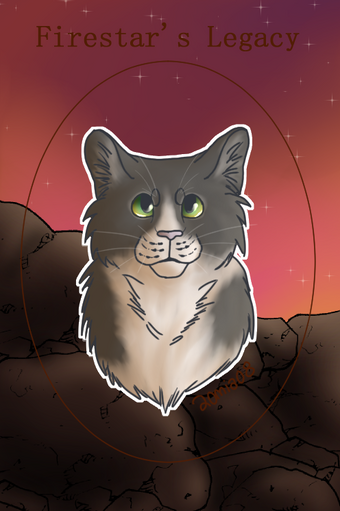 artwork by silverwhisker, do not steal
Allegiances
Pre-Civil War
ThunderClan:
Leader:
Squirrelflight: red she-cat with a bushy tail
Deputy:
Lionblaze: big golden tom
Medicine Cats:
Jayfeather: gray tabby tom with blind blue eyes
Alderheart: dark ginger tom
Warriors:
Thornclaw: golden-brown tabby tom
Whitewing: white she-cat with green eyes
Birchfall: light brown tabby tom
Mousewhisker: gray and white tom
Poppyfrost: pale tortoiseshell she-cat
Rosepetal: dark cream she-cat
Lilyheart: dark tabby and white she-cat
Bumblestripe: very pale gray tom with black stripes
Cherryfall: ginger she-cat
Molewhisker: brown-and-cream tom
Cinderheart: gray tabby she-cat
Blossomfall: tortoiseshell and white she-cat
Ivypool: silver and white tabby she-cat
Eaglewing: ginger she-cat
Dewnose: gray-and-white tom
Stormcloud: gray tabby tom
Hollytuft: black she-cat
Fernsong: cream tabby tom
Honeyfur: white she-cat with cream splotches
Sparkpelt: orange tabby she-cat
Sorrelstripe: dark brown she-cat
Twigbranch: gray she-cat with green eyes
Finleap: brown tom
Shellfur: tortoiseshell tom (identifies as a she-cat)
Plumstone: black-and-ginger she-cat
Leafshade: tortoiseshell she-cat
Spotfur: spotted tabby she-cat
Flywhisker: gray tabby she-cat
Snaptooth: golden tabby tom
Queens & Kits:
Daisy: cream she-cat (permaqueen)
Elders:
Graystripe: long-haired gray tom
Cloudtail: long-haired white tom with blue eyes
Brightheart: white she-cat with ginger patches
Brackenfur: golden-brown tabby tom
ShadowClan:
Leader:
Tigerstar: dark tabby tom
Deputy:
Cloverfoot: gray tabby she-cat
Medicine Cats:
Puddleshine: brown and white tom
Shadowsight: dark tabby tom
Warriors:
Dovewing: pale gray she-cat
Stonewing: white tom with a kinked tail

RiverClan:
Leader:
Mistystar: gray she-cat
Deputy:
Reedwhisker: black tom
Medicine Cat:
Willowshine: gray tabby she-cat
Warriors:
Minnowtail: gray and white she-cat
Queens & Kits:
Nightsky: dark gray she-cat

Note: WindClan and SkyClan still exist, but they make only minor cameos, so they are not listed. Cats that are not mentioned in the story in the other clans are not listed as well
Cats Outside the Clans:
Coriander: tortoiseshell she-cat
Tiny: thin gray she-cat
Mouser: burly smoky-black tom
Post-Civil War
NOTE: SPOILERS
ThunderClan:
Leader:
Mousewhisker: gray and white tom
Deputy:
Ivypool: silver and white tabby she-cat
Medicine Cats:
Alderheart: dark ginger tom
Warriors:
Whitewing: white she-cat with green eyes
Birchfall: light brown tabby tom
Rosepetal: dark cream she-cat
Bumblestripe: very pale gray tom with black stripes
Cherryfall: ginger she-cat
Molewhisker: brown-and-cream tom
Blossomfall: tortoiseshell and white she-cat
Stormcloud: gray tabby tom
Honeyfur: white she-cat with cream splotches
Shellfur: tortoiseshell tom (identifies as a she-cat)
Plumstone: black-and-ginger she-cat
Leafshade: tortoiseshell she-cat
Queens & Kits:
Daisy: cream she-cat (permaqueen)
Coriander: tortoiseshell she-cat
Elders:
Graystripe: long-haired gray tom
Cloudtail: long-haired white tom with blue eyes
Brightheart: white she-cat with ginger patches

ShadowClan:
Leader:
Cloverfoot: gray tabby she-cat
Deputy:
Stonewing: white tom with a kink in his tail
Medicine Cats:
Puddleshine: brown and white tom

RiverClan:
Leader:
Mistystar: gray she-cat
Deputy:
Minnowtail: gray and white she-cat
Medicine Cat:
Willowshine: gray tabby she-cat
Warriors:
Reedwhisker: black tom
Queens & Kits:
Nightsky: dark gray she-cat

Note: WindClan and SkyClan still exist, but they make only minor cameos, so they are not listed. Cats that are not mentioned in the story in the other clans are not listed as well
Cats Outside the Clans:
Tiny: thin gray she-cat
Mouser: burly smoky-black tom
Disclaimer
I have not read the most recent books, and I have made some alterations to the characters for...practical purposes. For example: Ivypool and Fernsong are not together because they're obviously related (there was an entire arch based on a prophecy about their family, come on). This fanfiction is likely to be inaccurate with the actual series because, as I've said, I stopped reading after the Omen of the Stars. This is based loosely on the occurrences following the rise of Squirrelflight in ThunderClan with the death of Bramblestar and imprisonment of his imposter.
This fanfiction is essentially a rant against the Firestar/Tigerstar legacy nepotism in the clans, and how the "non-Firestar-related" cats are upset about how they have no chance at receiving a promotion. Because, really...they should be upset.
Chapter 1: Bad Blood
"First thing's first," Squirrelflight stood high-ledge before taking in a deep breath, looking exhausted. In all fairness, the deputy should be- she was one of the older warriors of her clan, and had taken on a great deal of stress in the past couple of moons. Not only had she lost her mate to death, but she had to deal with watching helplessly as he was possessed by a ghost and played with like some puppet. "With the imprisonment of Bramblestar and the passing of leadership, ThunderClan will be in need of a new deputy."
The choice wasn't difficult, at least not particularly for her. Her own personal bias had potentially gotten in the way of her choosing, but how could it not? The red-furred she-cat was always known for being hard-headed and stubborn- it was what made her a great warrior, painfully dedicated to her clan. She could see a hopeful glow in the eyes of ThunderClan warriors below, despite their weary and battle-marred faces. "I say these words before StarClan, so that the spirits of our Bramblestar, wherever he may be, may hear and approve of my choice. The new deputy of ThunderClan is Lionblaze."
For so many moons, Squirrelflight had watched patiently as Lionblaze fought to prove himself a valuable warrior of ThunderClan, a legacy to make his grandfather, Firestar, proud. He was the embodiment of a perfect warrior, or at least he was in the eyes of his adoring adopted mother and aunt.
The golden warrior's eyes lit up when he heard his name. Several warriors nodded their heads in approval, but there was a wave of uncertain whispers that lingered among the crowd of exhausted warriors. It as Bumblestripe who had spoken up first, a tabby warrior who had once been reserved and passionate towards his clanmates, only to descend down a path of bitterness as his life began to fall apart before his very eyes. "Your adopted son and nephew? Firestar's grandson? I'm not surprised. When will the cats not related to Firestar be given their own chance? You all have been the head of ThunderClan for several generations! Aren't the rest of us good enough?"
A small handful of cats scowled at the silver tom's remark, Squirrelflight being one of those cats. "Those who have earned positions in ThunderClan have done so through hard work and merit. We deserved it- would StarClan have not granted us lives or the rank of medicine cat otherwise?" The temporary leader challenged in a dark tone, her emerald eyes taking up a dark, vicious gleam. This traitor dared to insult her father's legacy? "And weren't you the one, Bumblestripe, who reportedly begged Bramblestar's imposter to make you deputy?"
"...Bumblestripe does make a good point." It was Brightheart who spoke up from where the elder's sat, briefly casting her mate, Cloudtail, an apologetic glance with her sole eye. He, too, was related to Firestar. But the thick-furred tom seemed to take no offense. "Why is it that only those who are related to Firestar get to be leader, or deputy, or even medicine cat? Haven't the rest of us worked hard to defend our clan, some of us sacrificing our lives for it? Or even...part of ourselves?"
Before Squirrelflight could defend her family, another warrior spoke up. "Yeah," it was Molewhisker, who began to chime in his two cents quietly. "It's not fair , really. Every time someone becomes leader or medicine cat, they just pick their family members. That's biased, not cool. Sure, I know Lionblaze is a great cat, but...what about Thornclaw? He patrols day in and day out, and you don't even bat an eyelash at him."
Beside him was Whitewing, who squirmed nervously. The she-cat was typically reserved and didn't take much action in clan disputes, since her daughter had been a cat of prophecy and already spoke great lengths herself. "...I think I agree." She admitted quietly, glancing around at her clanmates nervously in fear that she might get back-lash for the comment.
"Ya'll already got a prophecy! Isn't that enough, do you really need to have the power of ThunderClan as well?" It as Cherryfall who shamelessly spoke up, a fire in her eyes. Her red tail lashed furiously as she glowered up at Squirrelflight, as if challenging the plumy-tailed cat to get into an argument with her.
"Lionblaze is a great cat." It was Cinderheart who tensely defended her mate, flattening her ears against her skull as she glared daggers over at Cherryfall. "StarClan chose him- I think that speaks great lengths."
"Oh? So we worship Firestar and Lionblaze now?" Cherryfall mocked, leaning across her brother, Molewhisker, as if attempting to get closer to Cinderheart. "I follow StarClan, not some bloodline. If StarClan really thinks that only Firestar's blood can rule ThunderClan, then they should speak up right now! They challenge us whenever we break the code at the Gatherings, so why aren't they sending down scary clouds now?"
"Enough!" Squirrelflight finally had enough. "The leader's word is the warrior code. You will not challenge my word." The red she-cat growled with her teeth bared at Cherryfall before she settled back down, forcing her eyes shut as if to recollect. "We've had a rough couple of moons. Lionblaze is deputy unless he declines my offer- this is final. The matter will not be discussed any further. This meeting is dismissed."
Chapter 2: Civil War
Squirrelflight's tyrannical abuse of the warrior code did not settle war with a handful of warriors at night. At dusk, even the warrior's den had been split due to an unsettling sensation of sparking tension among the warriors. Poppyfrost, Cinderheart, Lionblaze, Lilyheart, Eaglewing, Dewnose, Hollytuft, Fernsong, Sparkpelt, Sorrelstripe, Twigbranch, Spotfur, Snaptooth, and Flywhisker all lay huddled closely together on one side, while the rest of the warriors rest on the other. They felt as if they could not trust their clanmates, and rightfully so- they did not support the idea of Firestar's blood holding the only power in ThunderClan. Several other cats had fought valiantly for the clan, and had even died doing so. Their stories, their legacy? It was forgotten, drown out by the obsession of Firestar's family.
But the descendants of the forgotten would not go on being ignored any longer.
They had agreed that several other dutiful, hard-working individuals deserved to lead the clan, or at least have the opportunity to fairly prove themselves without bias of the Firestar family. Squirrelflight proved that she would not listen to reason, and immediately, the cats began to fear a time in ThunderClan similar to that of Bramblestar's imposter: days of tyranny and bias. Squirrelflight had begun to love her family too much. There was nothing wrong with that- at least, not until it got into the way of political reasoning.
Birchfall had slipped out of camp that evening, alongside Ivypool and Shellfur. They agreed that if the leader would not listen to verbal reasoning, then they would make her listen another way. It was that evening, under StarClan's clear sky, that they planned the coup of ThunderClan.
---
"I hope you've got a good excuse for waking all of us up at this hour." Mousewhisker mumbled after squinting against the darkness of night, looking as if he was about to pass out right there and then. Beside him was the remainder of the clan, all of which had been awakened and brought out of camp by their fellow rebels.
"We do," Birchfall quickly promised before settling down beside his daughter and Shellfur, who appeared eager to speak and spill word of their plan.
"We all agree that Squirrelflight needs to see some sense in this madness." It was Ivypool who spoke up, shifting from where she sat to make herself appear more professional and prepared. "We don't want to hurt our clanmates, because we value them, but...we need to show them how badly we want to be valued as well. We aren't here to just be bodies on the battle field- we're part of a clan, a system bigger than all of this. We don't want our opinion and value to be forgotten or ignored any longer."
"It's going to happen, tonight." Shellfur stepped forward with an enthusiastic wiggle of her whiskers, clearly impatient about explaining her part of the coup. "We attack while they're asleep. There may be many of them, but it's a time that all of this bias is put to an end. We are ThunderClan, it's not just them! It's time we get the recognition and appreciation that we deserve. The clan should vote for deputy and leader- it shouldn't be up to just Squirrelflight, or any other single individual for that matter. We're a unit, and it's time that we're treated that way."
The sleepiness seemed to slowly faded from the warriors' eyes as they listened patiently to what the trio had to say. In the end, they agreed: a clan should be united, not divided by blood. All of their members deserved to have their input. Indeed, the leader was the head of the clan, but they had plenty of power as-was. It as time that the reign of Firestar was put to an end. The nepotism would continue on no longer.
The best-suited deserved to lead, not the most popular in the family.
"Bumblestripe, you'll be leading the first group that'll go for the warrior's den. You'll have Rosepetal, Whitewing, Birchfall, Cherryfall, and Stormcloud with you. I'll lead the other group that'll help storm the warrior's den. Blossomfall, Honeyfur, Leafshade, and Plumstone will go with me. Ivypool will ambush Squirrelflight with Thornclaw and Mousewhisker. Everyone else will help secure the center of camp to pick up any stragglers. Remember, we're not trying to kill or severely kill anyone, but if necessary...drive them out. They can come back after we establish a fair rule, but only if they accept our....er, policy." Shellfur forced a big smile.
Rosepetal snorted and flinched awake after she'd passed out on Bumblestripe's shoulder. Thornclaw, meanwhile, looked determined to get things done, but he did seem slightly concerned.
"What about the medicine cats? Jayfeather and Alderheart might refuse to serve us, and leave with their family." Particularly, Jayfeather. Thornclaw knew that the gray tabby was especially stubborn, similar to his aunt.
"...We can only hope that they'll see reason. If not, Brightheart can help train a new medicine cat- she loved to work with herbs in her younger moons." Birchfall pointed out, receiving a nod of approval from some of the warriors afterwards. "After we drive Squirrelflight out, we will allow cats to nominate themselves as leader. Afterwards, we will have the entire clan vote on who they'd like to lead. Whoever gets the most votes will be our new leader, and if StarClan doesn't approve of our choice...then, they probably won't get granted lives, right? The cat who receives the second greatest amount of votes will stand as our new deputy."
The rebels nodded their heads in agreement, with a glimmer of hopes in their eyes. But moments later, they made their attack on ThunderClan. Bumblestripe and Shellfur lead their groups in first, attacking the warrior's den with stealth and precision as Thornclaw and Mousewhisker ambushed Squirrelflight underneath Ivypool's command.
Mousewhisker dove into Squirrelflight's side as the red-furred warrior darted out of the leader's den. She hissed furiously in protest, writhing under his grasp until she managed to hook her claws around his cheek and tear into his flesh. Thornclaw leaped forward to assist the gray-and-white warrior, only to be intercepted by Lionblaze, who had leaped into their skirmish after he tore away from Honefur. During those moments, Mousewhisker tore away his attention from Squirrelflight, feeling a deep concern for the senior golden tabby fall over him.
"Traitors!" Squirrelflight used the gray-and-white tom's distraction to her own advantage, forcing herself upward to slam Mousewhisker's skull against the rocky outline that cropped ThunderClan's camp. His ears rang in a deafening fashion as the pain set into his skull. The red-furred she-cat prepared to launch herself mercilessly at the tom before she was suddenly intercepted by Ivypool.
"You're the real traitor. You just welcomed yourself into leadership after the imposter was tossed out!" Ivypool seemed to have things handled as she rolled around with Squirrelflight, claws locked into the temporary leader's shoulders. Mousewhisker, after regaining some of his coordination, decided to set out to find and help senior Thornclaw. The world around him buzzed with chaos and battle, but he eventually located his companion underneath Lionblaze's claws.
He didn't seem to be fairing well. Try as he might, the experienced Thornclaw had grown old. He merely refused to join the elder's den because he wished to serve ThunderClan as a loyal warrior until his dying breath. "Stop it- you're going to kill him!" Mousewhisker screeched at Lionblaze before he leaped onto the golden warrior's back and rolled with him in order to release Thornclaw.
The gray tom knew he was outmatched, but it was a sacrifice worth making. He felt Lionblaze's muscles ripple underneath his thick, tattered coat of bronze fur, and swiftly the tom turned over to attack Mousewhisker. He felt the warrior's claws rain down on his head, ironically in the same place that had been forcefully bumped against the rocks, causing a sharp sensation of pain to creep across his skull. Mousewhisker desperately lashed back in protest, only to feel Lionblaze's crushing weight fall onto him as the warrior began to overwhelm him with relentless attacks.
StarClan, save me! Mousewhisker had no intention of killing his clanmate, but he hadn't expected such a brutal response from Lionblaze. Where was the honor in war, in the code? ThunderClan has long since tossed that out. He reminded himself bitterly, recalling the several against-the-code mateships the warriors (and even some of the medicine cats) had taken up. Had ThunderClan really turned against what it had once stood to represent: honor and dignity?
He suddenly felt Lionblaze's weight lifted off, only to glance up and find Graystripe forcing the warrior away. "Graystripe!" Mousewhisker gasped, eyes filled with adoration for the life-long ThunderClan tom.
"Graystripe?" Lionblaze echoed, bowing away after the dark gray warrior swiped him over the ears. "You were Firestar's best friend- how could you?" The golden warrior snarled with a look of sheer confusion, taking a hesitant step away from the furious elder.
"I was." The gray tom admitted before spitting out a tuft of Lionblaze's tawny fur. "But ThunderClan has strayed from what it was built upon, of what it was once like when I was an apprentice, when I was a kit. We've lost our honor...and I am guilty of that." The elder murmured, recalling the several times that he had broken the warrior code. "But it's time that we return to our roots, become what we once were. We need to appreciate the warriors that have been forgotten over time, and give them their opportunity to speak, to lead." Graystripe drew in a deep breath. "...I never took that opportunity. I could have changed this when I got back, I could have been deputy, and then leader of ThunderClan. I could have helped ThunderClan avoid so many different things, but...I didn't. I failed them then, and I won't fail them now."
Lionblaze curled his lip. He could not speak up against such a respectable elder, who had shamelessly admitted to his own faults. The golden tom's ears suddenly flicked backwards when Squirrelflight called for a retreat, and most of ThunderClan began to peel away from its own camp.
Ivypool stepped forward to address the fleeing cats. "ThunderClan is going under a new rule for a new age. Respect and power is not granted to others because of blood or prophecy- but because of hard work. ThunderClan will be a model for the other clans once more, because we will respect and honor the code, and each other."
Squirrelflight's supporters bowed their heads. Some looked defeated, others disappointed in their choices.
"If you respect the code and agree to love your clanmate for who they are, and not for what their ancestors once were, you'll be welcomed back. From here on out, we vote for our leader and for every new deputy, as a clan. Because we're a whole." It was quiet Whitewing who spoke up, taking her place beside her daughter with what appeared to be a proud smile.
"I-I'd like to stay." It was Alderheart who spoke up, shuffling his paws before he glanced over at the rebels innocently. "...I want to help ThunderClan start anew...I want to make a name f-for myself. What runs in my blood doesn't define who I am."
Chapter 3: The New Age
A majority of Squirrelflight and her family was never seen again- when they walked out of ThunderClan that evening, they walked out on it forever. After their leave, Alderheart settled in to tending to his clanmates. Meanwhile, the cats organized themselves and quickly held their vote to determine their new leader.
"Why hasn't Thornclaw volunteered yet?" Mousewhisker overheard Rosepetal whisper to Bumblestripe, with the she-cat shooting the injured golden warrior a curious glance. "I really wanted to vote for him."
"Hey! I thought you were going to vote for me?" Bumblestripe humored before playfully swatting at the she-cat's nose. Mousewhisker shifted nervously. He hoped his apprentice wouldn't continue down such an ambitious path- it wasn't him, it wasn't how he used to be. "...It's ok, though. I...I don't really want power after all of this. I really just want to, uhm..."
Mousewhisker curiously tuned his ears in on the conversation after Bumblestripe trailed off. Ask her, mouse-heart! He knew his former apprentice well. They had carried on their playful friendship up unto warriorhood. He knew how Bumblestripe had felt for Rosepetal for several moons.
"...I just want to settle down. With...you?" The silver tabby glanced over at the pale-furred Rosepetal, who screeched happily before tackling Bumblestripe out of joy. Mousewhisker flinched in surprise at her overzealous response, but his attention was torn away when he heard Thornclaw speak up.
"No. I do not think I am fit for leadership." The golden warrior rasped in response to Alderheart as he tended to his wounds. "I am old, and now, I am wounded. I think my time is best served as a warrior and mentor." Thornclaw finished before glancing over at the candidates, who had lined up and prepared to let their clanmates vote.
Mousewhisker drew in a deep breath. He was one of those cats on the line, hoping for leadership and an opportunity to prove himself to his clan. He wanted to promote unity, to hopefully lead his clan into a new reign of peace. Beside him was a small handful of warriors, including Ivypool, Blossomfall, Birchfall, and Molewhisker.
One after one, cats came up to their selected candidates and placed a pebble in front of their chosen leader to resemble their vote. Bumblestripe was the first to come up to Mousewhisker, that long-since-forgotten glow of joy visible in his eyes. "Did you hear, Mousewhisker?" The black-striped warrior whispered eagerly. "...I asked her, I finally did it!" With that, he returned to the crowd that had finished placing their votes.
It was sunrise when they finished counting the votes. Mousewhisker was expecting Ivypool to be selected as leader, despite her distant relation to Firestar. He admired the she-cat's intensity and dedication to her clan, and he thought it would be like somewaht of a full circle if she was chosen as leader. Ivypool had been tossed into Dovewing's shadow of greatness when the pale gray warrior became a cat of prophecy. He thought Ivypool deserved better.
...And, quite frankly, Mousewhisker had always considered her rather beautiful.
...He'd keep that much to himself.
"Hello? Mousewhisker?" Oh sweet StarClan- he wasn't paying attention! Was he supposed to give a speech? "...Mousewhisker, the clan chose you. Do you accept the position of ThunderClan leader?" Birchfall stared at him calmly with a set of focused eyes, awaiting his response. Shock quickly settled in, drowning out the sleepiness that had fogged Mousewhisker's focus.
ThunderClan chose him?
"...I-I accept." He didn't expect to be chosen, considering that he had turned into somewhat of a wallflower of ThunderClan. It baffled him- what did ThunderClan see in him, if they never saw him half of the time anyways? He hoped he could serve them well and make them proud, as he was already beginning to doubt his abilities.
Mousewhisker turned to glance down at the other pebbles who had been cast. It had been a close tie, he realized, with the second place feline being just one pebble short of tying with him. He looked up, only to see that it was Ivypool. Ugh, he felt horrible now. She didn't hate him for this, right?
"Will you be my deputy, Ivypool?" He swallowed, trying to sound as professional and mature as he possibly could. It wasn't typical, considering his typical loose and playful demeanor. He probably wouldn't act this way for long.
"Yes, I accept the position of ThunderClan deputy."
Chapter 4: Ad Astra
A quarter moon had passed. The sudden death of the imposter created a portal, allowed the ghosts to reconnect with StarClan, and for StarClan to reconnect with the mortal world. Mousewhisker needed to get his nine lives at the moonpool, but before then, he needed to attend the Gathering. Ivypool urged him to get his nine lives first, for his own safety, but he wanted to be there for ThunderClan to help convince the other clans to follow in their lead.
But a few days before, ThunderClan had gotten word that ShadowClan had overheard about their civil war through border chatter, perhaps when Squirrelflight and her exiled family passed through. Mousewhisker felt tense- he half expected ShadowClan to use their situation to their own advantage by attacking ThunderClan an attempting to take them over. But Ivypool had reported that the cats she'd met at the border acted...indifferent, almost stimulated by the actions of ThunderClan. It would seem that they, too, wanted change.
Mousewhisker cautiously tread away from ThunderClan camp with his selected Gathering attendees following behind him. Coriander, one of the Horseplace cats, had asked to join the clan after the sudden death of Smoky a little over a moon ago. He had been replaced by a duo of brother and sister, Mouser and Tiny. Corinader was expecting Mouser's kits, and was desperately seeking the guidance of the clan cats after she had lost her litter with Smoky to greencough. ThunderClan had voted and agreed to welcome her in. Surprisingly, Daisy was very inviting.
"You seem tense," the silver tabby mused beside him, leading Mousewhisker to flinch in surprise. He hadn't noticed Ivypool walking at his side. "You'll do well, you're a good leader. That's why ThunderClan chose you."
"...I'm just trying to think of what I should say at the Gathering, how I should...bring all of this up." The gray-and-white tom frowned as he walked along, allowing his stride to match the she-cat's. "I'm not sure why ThunderClan chose me as their leader, but I can guarantee that it isn't for my speech-giving skills." The leader laughed nervously.
"They picked you because you're a good cat, Mousewhisker. And I agree with that." Ivypool mewed before she walked ahead to catch back up with Blossomfall, who had recently lost her mate, Thornclaw, to infection. He felt his ears grow hot as he watched her leave. He hadn't expected such kind words, it was very flattering.
He crossed the island in silence, greeting by murmurs of surprise from the WindClan and SkyClan crowds, who were shocked to not see the bright-furred Squirrelflight leading ThunderClan. In fact, they seemed puzzled by how ThunderClan's numbers were practically cut in half. Mousewhisker nervously joined the other leaders while Ivypool sat quietly beside him.
Even when RiverClan and ShadowClan joined the Gathering cats, everyones' eyes remained locked on the ThunderClan cats, and more specifically, their unexpected wallflower of a leader. Mousewhisker shifted nervously as Tigerstar sat at his side, seeming particualrly suspicious of Mousewhisker's rise to leadership.
The gray tom waited patiently to speak, listening as Tigerstar rambled on about how they elected to kill the imposter, which had thus reunited the clans with their starry ancestors. The other clans reported doing well, but still uneasy glances were sent in the direction of ThunderClan's new leader.
Finally, he had his opportunity to speak.
"...As many of you may notice, ThunderClan is significantly smaller." Mousewhisker began, shuffling his paws anxiously and digging deep to find his inner lion. "The clan collectively decided to take matters into their own hands after Squirrelflight selected her own nephew, Lionblaze, as her deputy. To add, Squirrelflight assumed leadership without confiding in her clan, and ThunderClan would tolerate it no longer. The Firestar bloodline nepotism has come to an end, so that ThunderClan may recognize cats for their accomplishments and loyalty to their clan, not for what runs in their blood." He looked down at the cats who listened to him intently, taking in the twisted faces of disgust, and the nods of reason.
So he continued. "ThunderClan now votes for its deputies as a whole when one comes to pass. In order for ThunderClan to gain such unity, we had to lose several noble warriors. Some of Firestar's family members and friends did not wish to return to ThunderClan. Others, including Thornclaw, lost their lives in the civil war."
"What do you mean 'Firestar nepotism'? Bramblestar wasn't even related to him!" A cat spoke up in the crowd with a roar, causing a few murmurs of agreement.
"...Maybe he wasn't directly related, but Bramblestar was mates with Squirrelflight, Firestar's daughter. Of course, there'd be some...favoritism there." Mousewhisker replied quickly to prove his point, to which the protestor seemed to quickly change their mind.
"...That's a good point." The cat agreed.
"Hey- ShadowClan's that way too!"
"Yeah!"
"Rowanstar, and then his own son Tigerstar, and then even Tawnypelt was deputy. And Shadowsight's medicine cat! What makes them so special to where they get to not only hold power within ShadowClan, but get revived from death as well? Don't the rest of us matter? Have we not worked hard to deserve at least a little respect as well?"
Yowls of agreement and protest became deafening, while Tigerstar roared out of rage. He arrogantly snapped at those who dared to oppose him, but Mousewhisker couldn't make out what he was saying. In fact, he couldn't hear much of everything as cats fell into debate. What have I started? The gray ThunderClanner looked up at the full-moon pitifully, until finally StarClan blocked out the moonlight with a series of heavy clouds.
The clans quickly parted ways, with Tigerstar sending a bitter, almost threatening glare in Mousewhisker's direction before he faded into the shadows. Dovewing and Ivypool had gotten into a heated argument before finally the she-cat's parted ways. Ivypool looked awfully proud of herself.
"...What have I done?" Mousewhisker whispered to himself as he squeezed his eyes shut, hurrying across the landscape towards his ThunderClan home. "...Tigerstar's going to want to kill ThunderClan now."
"You did good- don't let that arrogant furball get to you." Mousewhisker looked up, secretly hoping that it would be his deputy that had come to support him, but he was surprised to see Bumblestripe. He smiled when his former apprentice reached out to support him. "Tigerstar's gonna get what he deserves- personal bias aside. ShadowClan's been represented by Tigerstar the first and his family for too long, it's put a sour taste in their mouth. I think they'll seek out fairness and change, same as we did."
The leader did find some comfort in the tabby's words, but something seemed to be troubling Bumblestripe as he fell off into silence. Mousewhisker tried to reach out. "...Is it Dovewing?" He hoped that the tom had moved on, and it appeared that he had, based on the fiery rage that glowed in his eyes at the mention of the she-cat's name.
"Dovewing is a traitor to her clan." Bumblestripe growled with a flex of his claws before he finally forced his fur flat. "...Er, no...it was something else, actually."
Mousewhisker cocked his head. "What is it?" The leader asked with genuine concern in his smooth tone, only for his companion to shake his head slowly.
"...Maybe another time."
---
"It's time, Mousewhisker." The gentle voice of Alderheart pulled the gray leader from his sleep, leaving Mousewhisker to roll over in his nest lazily, exposing his white belly.
"...It's too early, that's what time it is." He groaned in protest, but the little medicine cat was persistent on getting the leader up and going. He quickly shoved the the traveling herbs in front of the leader, ordering him to eat them before shuffling his paws impatiently. It was time that Mousewhisker got his nine lives, especially with Shadowclan posing themselves as a potential threat. They needed him strong.
More than that- they needed to know if StarClan approved of what they had done.
Mousewhisker was nervous- rightfully so, granted that he exiled Firestar's entire family, and he was likely to face him in StarClan when he hopefully received his nine lives. Mousewhisker was quiet as he traveled alongside Alderheart towards the Moonpool, lost in his thoughts and pondering the potential outcomes of his meeting with the starry ancestors.
"Who goes there?" The sharp voice was both unsettling and unexpected, leaving the leader and his medicine cat to practically jump out of their fur. Mousewhisker braced himself, unsheathing his claws before spinning around to face the stranger. ShadowClan stench overwhelmed him. He feared that his fears had been realized.
"Oh?" A gray face poked through the undergrowth, blinking their pale eyes in surprise as they took in the sight of Mousewhisker and Alderheart. "It would appear that we came here at the same time to get our nine lives. This is most interesting- I doubt this has never happened before in all the history of the clans."
"...Nine lives?" Mousewhisker echoed, recognizing the stranger as Cloverfoot, Tigerstar's deputy.
The gray tabby she-cat nodded. "Yes- ThunderClan really inspired ShadowClan last night. We turned on Tigerstar and his goons when we returned to camp. He fought to the death to defend his title, and in the end, his family was sent out in exile. ShadowClan wishes to live under the title of the Tigerstar lineage no more- that bloodline does not make us. It is the valiance and stealth of ShadowClan's warriors that makes it the clan that it is."
He was shocked, and frankly, he didn't know what to do with another leader attempting to gain their nine lives. Were they supposed to just...wait for their turn? "...I hope ShadowClan is doing well after the fight." He didn't know what else to say. "Did ShadowClan vote for a deputy?"
"Yes," it was Puddleshine who spoke up, no longer accompanied by Shadowsight since his exile. "The clan picked Stonewing. They chose well, I do believe."
"He always did seem like a good warrior." Mousewhisker agreed quietly, glancing towards the moonpool in silence. With a small nod, the ShadowClanners and ThunderClanners agreed to take their places by the moonpool, taking in its sacred waters before falling into a deep slumber.
---
He hadn't expected to be granted his nine lives- he feared that StarClan would reject him, reject what ThunderClan had come to rebuild itself as. To his great surprise, ancient leaders surrounded him and voiced their approval. Even Firestar himself had appeared at Mousestar's leader ceremony, although the red tom had been horribly tense. He hesitantly voiced his support and understanding in the actions of ThunderClan, but he was clearly disturbed by the exile of his family. It was understandable, but Mousestar was glad that the prophetic tom was willing to be accepting of the choices of his clan.
Rainfall had been heavy when Mousestar returned to camp, and the warrior's den was discovered to be leaking. ThunderClan was working hard to make its appropriate repairs, but they needed to wait for the rain to stop before they could properly patch the leaks in the rocky den. Coriander and Daisy had invited a handful of cats to stay in the nursery for the evening, while the rest of the warriors did their best to squeeze into the apprentice's den for the evening. Ivypool and Blossomfall had been displaced, with both of the dens crammed. Ivypool had given her nest up for Rosepetal, as the she-cat had recently announced that she and Bumblestripe were going to have kits. So, that was what Bumblestripe was so nervous about admitting to Mousestar at the Gathering.
He didn't mind, really. Mousestar was excited to be an uncle again, and he knew Bumblestripe would take good care of Rosepetal. Already, he tried to catch her fresh mice daily, and would clear any brush from her path when they took walks on ThunderClan territory.
Better yet, Alderheart had learned at Mousestar's gathering that one of Coriander's kittens would become his medicine cat apprentice. The tortoiseshell was due soon, and the medicine cat seemed as eager as ever. He admitted that the medicine cat den felt empty and lonely without having another cat to assist him.
Mousestar nodded to Ivypool and Blossomfall as he entered camp, noting that the two were resting outside the crammed apprentice's den, trying to stay as dry as possible. The gray-and-leader cleared his throat awkwardly. "Y-You know...there's spare room in my den as well. I-It's not that roomy, but it's better than sleeping out in the rain."
Blossomfall looked from the leader to his deputy before she slowly shook her head. "I think I'll just sleep in the elder's den tonight. My father would love the company." The petal-patched tortoiseshell admitted before slipping off, leaving the leader and deputy in silence.
"I would appreciate that. Thank you." The silver tabby she-cat responded in a calm and level tone, leading Mousestar's chest to tighten. Did she not understand the warmth and affection he felt towards her, or did she just stand to ignore it? She acted so professional and distant around him, but...was it wrong for him to want a relationship with his deputy? Maybe Ivypool was trying to make a point- they had to work together as equal members of the clan, not as a pair of mates.
Mousestar lead Ivypool to his den, allowing her to slip inside and try to make her own nest. He felt numb on the inside, and tried to put his feelings aside. She doesn't feel the same way. You need to respect that. The leader reminded himself firmly before he entered the leader's den and settled down in his own nest. He curled himself tightly into a ball, opening a single eye to glance over at Ivypool as she rested in her own nest. "...It's a bit chilly tonight. I-I can see if Alderheart has any feathers for your nest? The leader's den has always been drafty." He was super nervous about speaking to her in private, like a kitten frightened to mention to their parent that they'd done something wrong. He belly felt like it had butterflies fluttering around inside. He never was particularly professional.
After a small period of silence, he felt Ivypool's cool fur gently touch his. "...Bumblestripe always said you had fur like a cloud." The deputy mused quietly. "...I hope you don't mind. We put all the feathers into the nests of the queens and elders."
"...Funny that Bumblestripe would mention that." Mousestar mewed awkwardly with his heart pounding in his chest. "...No, I don't mind. T-Thank you for taking care of our elders and queens."
"Thank you for actually being a leader that cares for them." Ivypool responded softly before slowly squeezing her blue eyes shut. "You're a good cat, Mousestar, and I like you for that. Don't let anyone ever tell you otherwise. You've got such a good heart."
Chapter 5: Remission
Ivypool never did move out of his den.
At least, not until they had a discussion that made Mousestar feel as if he was walking on clouds: Ivypool wanted to step down from the position from deputy, because she wanted to focus on their relationship, on their future. She idly mentioned wanting to have kits in the future, and she felt that being clan deputy would draw her focus away from the family they wished to make. Mousestar could handle clan duties, she was confident in that. Ivypool? She wanted now to be a mother, to support her clan and mate from the sidelines.
The next Gathering was but a few days away, meaning that Mousestar had lead ThunderClan for nearly a moon. Rosepetal had officially moved into the nursery, where Bumblestripe fretted over her day in and day out. Cloudtail had moved on and joined StarClan after he struggled with a battle with greencough. Brightheart was heartbroken, but she argued that she was ready to continue to support her clan in any way possible. Meanwhile, Coriander had given birth to a healthy litter of five: Maplekit, Haykit, Smokekit, Tinykit, and Quickkit, who Alderheart had deemed his next apprentice.
At dawn, Mousestar was to hold a vote for the next deputy of ThunderClan. He was eager to see the results of what the clan picked. Birchfall and Cherryfall were the two cats who volunteered for the position. Although the she-cat was as patriotic as she could possibly get, Mousestar silently hoped that Birchfall would be the one to be selected by ThunderClan. The tabby tom admitted that he did not plan to serve long, considering that he was growing older, but he could definitely provide Mousestar with plenty of experience and wisdom as a guiding deputy. That way, Cherryfall could train another apprentice, and perhaps learn to calm some of her contagious energy.
He waited for Alderheart to count the votes. Some of the clan watched the tom with tense energy, eager to learn about their new deputy, while others continued with casual conversations. Beside him, he could overhear Blossomfall chatting with Ivypool, who naturally decided to seat herself beside Mousestar.
"...I can't help but to think about them." Blossomfall mewed with a small sigh. "I sometimes wonder if I'm a grandmother now without actually knowing it. Eaglewing was horribly close to Dewnose before they left- it was only a matter of time before they became mates." The dappled warrior had every right to be concerned about her children, but she did not seem ashamed of what she'd done. Blossomfall was proud to be one of the loyal warriors of ThunderClan who had chosen to stick to the clan's foundation.
Ivypool nodded and continued to humor her good friend's conversation as they awaited Alderheart's announcement. Blossomfall had been through much. Not only did she lose her kits when she had to exile some of them, but Thornclaw had passed not long afterwards as well. Mousestar was proud of Ivypool for sticking close to the mournful she-cat as a good friend.
"...ThunderClan has chosen Birchfall as the next deputy." Alderheart claimed after he finished casting the pebbles that had been cast, giving the old tabby tom a small nod on confirmation. "Do you accept this role, Birchfall?"
"I do." The senior warrior responded with a firm rumble, Whitewing purring proudly beside him in support of her mate. Cherryfall was visibly upset, somewhat furious that she hadn't been chosen. It would seem as though she felt betrayed by her clan for not supporting her. Mousestar hoped that she'd understand and cool off over the rest of the afternoon. Cats rose to congratulate Birchfall on the accomplishment, while the leader suddenly found Bumblestripe at his side.
"...I want to ask you something," the black-stripe warrior asked humbly before shuffling his paws, eyes drifting towards Rosepetal in the nursery. He seemed to be looking for her approval. "...Rosepetal and I were talking, and we wanted to know if it was alright to name one of our kits in Hazeltail's honor. We know how close you were to her."
Mousestar couldn't resist releasing a warm purr. "...I'd be honored if you named one of them after my sister." His answer pleased the warrior, who gently butted his head against the leader's shoulder as a sign of his thanks.
He twitched his ear when Birchfall's voice rang in his ears. Already the new deputy had set out to work, assigning a few hunting and border patrols. The pale tabby turned briefly to Mousestar, inviting him over with a small nod. "Would you be willing to lead a hunting patrol with Cherryfall and Plumstone? We're scant on warriors. It's a good thing that we're seeing activity in the nursery again. ThunderClan needs kits." His eyes bore into Mousestar's. What was he getting at- oh. Right- Ivypool was his daughter.
"Uh, yeah, kits." The gray bicolor leader laughed nervously, only to find Birchfall inching closer. This was getting awkward. "I'll...go lead that patrol now." Mousestar quickly excused himself from whatever conversation that was supposed to be, and approached Cherryfall and Plumstone. The ginger she-cat seemed to recover from her defeat in the deputy contest swiftly, as she was already boasting to Plumstone about her phenomenal hunting skills. The two were in an intense competition to out-catch each other.
Mousestar headed out with the duo of she-cats, who eventually sprinted ahead after Cherryfall challenged Plumstone to a contest of speed. The leader twitched his whiskers in amusement and observed as they tried their best to impress one and other by flexing their greatest skills. It was good to see ThunderClan so happy again, but he knew that peace couldn't last forever. The Gathering was coming up. WindClan, RiverClan, and SkyClan were yet to voice their opinions on ThunderClan's new idea.
While the two she-cats split off to continue their competition by means of hunting, Mousestar skillfully tracked down a squirrel and chased it up a tree. This would make a good meal for Ivypool and Rosepetal. He reminded himself ambitiously before hauling himself up the rough bark of the tall oak tree, eyes trained on the fluffy gray tail of the rodent. When it parted onto a branch, the leader darted after it, only to feel his hackles raise at the sound of a crack.
He could feel the branch shuddering underneath him, whining and shuddering until it finally snapped. He didn't know what happened to the squirrel- Mousestar could only hope that karma served that stupid rodent what it deserved for getting him into this mess. When he felt himself suddenly plummet to the ground, he desperately lashed out with a claw to snatch the branch that had broke and slammed against the trunk of the tree, but he got nothing but air. When he landed, everything went black.
When he finally awoke, it was Cherryfall and Plumstone who were standing above him, with their mouths stuffed with prey. "G'morning, sleeping beauty." The ginger tabby she-cat cackled above him. "Think you could get out of our hunting session, eh?"
Plumstone roughly shoved her smaller companion with her broad set of shoulders. "Ignore bee-brain here, she's feeling cocky because she caught more prey than I did- only because of luck." The tortoiseshell sniffed her leader curiously, helping Mousestar struggle to his paws. His entire body felt incredibly sore from the fall. "I think you lost your first life, Mousestar. What happened up there?"
"The branch snapped when I was chasing down a squirrel." Mousestar flicked his ears over at the tree nervously. "I should have seen that the branch was dying. I guess newleaf has been a little too plentiful with prey." The gray tom tried to crack a joke about stuffing his face with prey, but Cherryfall seemed unimpressed. Right- she was better at everything, he had forgotten.
He noted the three young hares at Cherryfall's paws, and the measly mouse that Plumstone had caught. "It looks like you two caught enough prey for the afternoon, let's get back to camp."
The pair of she-cats agreed, and Mousestar followed them to camp on tender paws, his bones aching. Ivypool met him when they returned to camp, insisting that he have Alderheart check him over immediately. He knew that there was no arguing with his mate- she was very stubborn in that way. So he obeyed and allowed the medicine cat to look him over, who reported that he couldn't find any visible damage.
"I'd recommend that you stay here for the night." The red-furred medicine cat suggested quietly, pushing a few loose leaves back into their proper stores. "There's nothing broken and no injuries that I can see, but it's better to be safe rather than sorry." Alderheart pushed a few small pieces of ragwort in Mousestar's direction, who instantly recoiled after he lapped them up.
"StarClan, do you have anything in here that tastes good?" The gray tom protested, but he received nothing more than silence as his answer. He'd take that as a "no". He quieted himself down to leave Alderheart in peace, and found himself falling asleep not long later.
It was nearly dusk when Ivypool ducked into the medicine cat den, with one of the young hares that Cherryfall had caught hanging in her jaws. The leader raised his head when he saw her, taking in the battle-scarred she-cat's grace and confident disposition. Seeing her made him instantly feel better. "I thought you might be hungry. I know how much you love to eat." The silver tabby she-cat twitched her whiskers in amusement and settled down beside the leader to share the prey.
"Eating again, Ivypool?" Alderheart raised a brow as he glanced over at the former deputy. "I thought you ate that second hare that Cherryfall caught."
"Well, I'm feeling a bit emotional." She grumbled in the medicine cat's direction hastily, taking a swift bite out of the prey as if to spite the medicine cat. "Mousestar's hurt, I've every right to be upset. Besides, hares taste good- but don't go telling WindClan that. StarClan forbid those cats have anymore ego."
"And you ate two mice this morning- before Mousestar even got hurt." Alderheart continued on pointedly, ducking his head and shuffling his paws nervously when tabby she-cat shot him yet another hostile glare. "I-I don't mean to make you upset, it's just that...y'know." He looked nervous. He didn't want Ivypool to bite his head off- he liked having it on his shoulders. "...You and Mousestar are...er, close...it's nothing to be ashamed of or hide, you could still be a warrior for some time..."
As Alderheart continued to attempt to coax Ivypool into allowing him to look her over, Mousestar began to fade out of the conversation. It was getting late, and he was growing tired again. He had a habit of dozing off, which was part of the reason why he wasn't eager to attend the Gathering. It was too late. He wasn't much of a night owl...although, he wasn't an early bird, either.
His head felt heavy on Ivypool's shoulder. Feeling Mousestar at her side (even though he was practically falling asleep, with her as his involuntary pillow) helped cool the she-cat's nerves. "I know what you're trying to say." She finished before casting Alderheart another small glance. "...But I don't think I'm expecting kits, Alderheart. We've tried for a while now. I just...don't think I can have them. And it makes me really upset. I want to be a mother."
Alderheart could see that it was a sensitive topic for the warrior, so he decided to press on no longer. He left Mousestar and Ivypool in peace as they finished their meal and then fell asleep side-by-side.
---
The day of the Gathering had come. Mousestar had recovered, Ivypool still ate enough for three cats, and the clan was prospering well. Coriander's litter regularly explored camp, and already Quickkit was taking a liking to the little lessons that Alderheart would show her. Rosepetal's due date was creeping closer and closer, so Bumblestripe began to fret further. Naturally, his level-headed mate was unconcerned, although she did frequently voice her excitement for finally meeting the kits that grew in her belly.
Birchfall helped gather the cats that would attend the mass-clan meeting before they finally set out. Mousestar walked in silence across ThunderClan territory, feeling as if half of him was missing. It wasn't the same without either Ivypool or Bumblestripe to keep him company. Although, he did find Shellfur quiet amusing, as she and Cherryfall got into a heated argument about the best way to catch a twoleg. Hopefully, they didn't intend to see their plans out.
ThunderClan was the first to arrive. Mousestar took his place among his clan as they all sat together and continued their heavy chatter. Cherryfall had moved on to sit beside Plumstone, with whom she'd gotten very close to. They hadn't officially announced anything, but the leader imagined the duo of she-cats to be almost mates of sorts.
ShadowClan arrived next, with Cloverstar leading them proudly. The gray she-cat climbed up the branches to seat herself beside Mousestar, dipping her head politely to her fellow new leader. "Things have been working out swimmingly," she commented before briefly nodding down to her clanmates. "ShadowClan's morals seem higher than ever."
"I'm glad to hear that. ThunderClan's been the same." Everyone seemed happy, excluding Ivypool. Mousestar felt horrible- he felt as if he had failed his mate. However, he was completely helpless in the situation, same as she was. The only thing that seemed to brighten the warrior's spirits was whenever he brought her some fresh hare.
"I wonder who will be leading WindClan today," Cloverstar mused, noticing that the ThunderClanner seemed to be a little down and out. Well, he always appeared exhausted at Gatherings, but his upset with his situations back at home were very visible. "WindClan seemed unnerved about allowing Crowfeather to lead, considering he had broken the code. They're normally sticklers when it comes to obeying the code."
"I've got my fresh kill on Breezepelt." Mousestar mumbled, not seeming particularly thrilled about his own bet. "He's bitter, he's the perfect embodiment of WindClan: small cat with an attitude." He grinned when he uttered those words. He still bet that WindClan cats were small because of the wind, as he'd said so many moons ago.
"You've got that right." Cloverstar chuckled before glancing out at the horizon, spotting RiverClan cats pouring in. Miraculously, Mistystar still lead them. Mousestar and Bumblestripe had a game they liked to play at Gatherings, back when they were both young warriors. They'd bet whether or not the fossil would still be alive at the next Gathering- Bumblestripe always won. She was still alive.
The ragged-furred blue she-cat dipped her head in greeting to the two young leaders as she struggled onto the branches. Mousestar silently wondered how many live she had left. SkyClan arrived as he made that thought, and then finally, WindClan. They were lead by none other than Sedgewhisker. Mousestar thought she deserved leadership. She was snarky, like the rest of her kind, but also loyal to her clan.
It was then that the Gathering began, and Mousestar took initiative. "ThunderClan would like to propose a new addition to the code." The gray and white tom stepped forward, trying to replicate the confidence that the other leaders had exuded. "The deputy shall be voted on by the clan, not the leader alone. The clan is united, and so it must make a decision as one."
Mistystar started first. "RiverClan agrees to adapt ThunderClan's new proposition to the code." He was surprised that the stubborn old she-cat decided to agree so quickly, considering that Reedwhisker, her son, was her own deputy. Or at least- he had been. "Reedwhisker stepped down after he discovered that Nightsky was expecting his kits. RiverClan convened and picked Minnowtail as the new deputy." Mistystar seemed to speak in an almost empty fashion, as if she felt lonely without having her son sitting below her. Mousestar pitied her, but he as overjoyed to see that she sided with his decision.
"ShadowClan has also followed in suit, after driving out and killing Tigerstar." Cloverstar stepped forward to speak up next. "ShadowClan, too, accepts Mousestar's proposal."
Sedgewhisker- no, Sedgestar- hesitated. "...Crowfeather had broken the code, and agreed that he would not be suitable as WindClan's figurehead. WindClan decided to attempt ThunderClan's method for picking a new leader and deputy, and it worked out well. WindClan agrees with this addition to the code."
SkyClan was last to voice their opinion. As close friends of Firestar, they hesitated with the idea. Some of the SkyClan warriors still shot icy glares up at Mousestar, but in the end, they agreed to the new addition to the code.
"Then it is agreed." Mistystar, as the eldest, spoke up. "From this day forward, all five clans will uphold this new portion of the code: the deputy will be voted upon by the entire clan. If the clan is left without a leader and deputy, then both positions will be voted for as well."
---
Mousestar hadn't expected the Gathering to go so well. Camp was silent when he returned, with Molewhisker, the guard for the evening, sending the returning ThunderClanners a cool nod of greeting. The leader saw to it that everyone returned to their nests, but he was surprised to find the medicine cat den surprisingly busy. Immediately, he feared for Rosepetal, believing that something might have gone wrong with his half-sister and her kits. He was relieved, however, to find her still resting by the nursery entrance, curiously peering over at the medicine cat den.
The leader pushed his way inside, only to find himself being squashed against some cat. It was Ivypool, as it turned out.
"Mousestar!" She sounded overjoyed, her blue eyes glowing with infatuation and sheer joy. "Mousestar, oh StarClan...it's a miracle. We're going to have kits. We're finally going to have a family of our own."
"Really?" The tom's eyes lit up before he pressed his forehead against Ivypool's, allowing his eyes to slowly slide shut. "I have good news, too. The other clans agreed to adopt the voting ritual into the code. We're going to have a bright future, Ivypool...You, me, and our kits. I'll love and protect our little family until the day I die. That, I promise."
End
Epilogue
He had just been visiting Ivypool in the nursery, who was about a moon away from delivering their kits. Mousestar and the silver queen had been discussing potential names, just be to be prepared in the event that their minds went blank when the kits arrived. They were resting in Ivypool's nest together, side by side, with Mousestar being pushed off the nest due to the size of his mate's swollen flanks. Alderheart was certain that they'd have a big litter, same as he had predicted for Rosepetal.
"I really like Rainkit," the queen agreed at her mate's suggestion, nodding her head thoughtfully as she tried to think of more names for their upcoming litter. "What about Dogkit? Or Eaglekit?" Her suggestions were greeted by silence as Mousestar thought on her proposals.
"...Maybe a little too aggressive." Mousestar mused. He really liked the idea of simple, nature-related names for the kits, something cute. Because kits were cute, too.
"Point taken." The patched she-cat twitched her whiskers in amusement as she thought on more, curling her tail around her enlarged side. "...Maybe Rabbitkit? No- we're ThunderClan, not WindClan...." Ivypool scowled to herself. "Ah! I remember what I wanted to suggest now- Grasskit. It's simple and graceful, and I've always loved to lay in the grass in my freetime."
"I like it," Mousestar agreed with a small purr, resting his head on the queen's shoulder. "I was thinking maybe...Thornkit, after Thornclaw. All of this wouldn't be possible without his patriotis-"
The leader was cut off by a screech that sounded from the back of the nursery. Rosepetal had begun kitting, and instantly Dasiy raced over to her daughter to assist the first-time queen. Coriander, meanwhile, escorted her own kittens out of the nursery and distracted them with a game of mossball while Alderheart rushed inside. Ivypool and Mousestar chose to evacuate from the nursery as well, to give Rosepetal space and distract Bumblestripe from his mate's situation.
Fortunately, things went smoothly, and Mousestar went inside to meet his new half-nieces and half-nephews. "Three kits!" He had expected the litter to be larger, but the kittens had inherited grandpa Graystripe's superior size. "They'll be great and powerful warriors of ThunderClan," he purred to his exhausted family member.
"This is your uncle Mousestar, kits." Rosepetal murmured with Bumblestripe wrapped around her. The queen seemed calm, but already Bumblestripe had fallen asleep on her shoulder. He had been so worried that he exhausted himself. Rosepetal motioned to the smallest, the only she-cat in the litter: a dilute tortoiseshell. "This is Hazelkit." She spoke in a purr, overjoyed that she was able to name a daughter after her late half-sister. She then nodded to the cream tom. "This is Dawnkit, and his brother," she motioned to the red silver tabby tomkit, the biggest of the litter, "...is Beekit, named in honor of his father...who doesn't know that quite yet, because he's as sleepy as his kits."
Ivypool stood beside Mousestar, staring at Rosepetal's three little bundles of fur with a look of awe. "Welcome to the new era of ThunderClan, little kits."
Community content is available under
CC-BY-SA
unless otherwise noted.